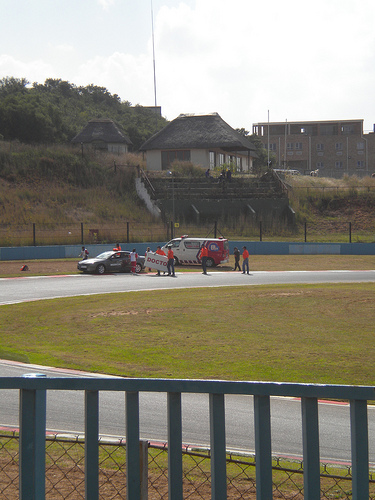 The international Superbikes Kyalami event was held on the weekend of the 14th of May, running from the Friday morning to the Sunday afternoon at the Kyalami Race Track in Kyalami. As far as the officials from the FIM and SBK are concerned, the event was a huge success.
ER24 private ambulance service provided the medical standby at the event, with eleven ambulances on standby each day of the three day event. A total of between sixty two and seventy two medical staff were available around the track at designated points per day. Two ER24 Medicopters were also on standby for the event. One was designated to the event, and was based at the main medical center at the race start. The other, the ER24 Discovery Medicopter, was available at the race for the majority of the day, but was still able to lift off for other cases, while acting as a regional air ambulance.
Emergency medical incidents
Fortunately no major medical or trauma events presented themselves over the course of the three days, and most of the spectacular crashes during the races left the riders with only minor to moderate injuries. Overall, ten riders were attended to by medical personnel during the event. Of the ten, one was a local Supersport rider, the remainder were local riders. Seven of the ten were involved in a form of collision while actually taking part in a race or practice session. Three riders came off their bikes at turn nine, two at turn four, one at turn seven, and one at turn ten. Only one rider was transported to a hospital for further medical care, but was in a stable condition.
In total, fourty four patients needed a form of care by the ER24 medical staff. Ten spectators were suffering from various forms of ailments and were seen at the main medical station at the race start. The patients were all discharged from the station after they were assessed by the clinic staff.
Thanks go out to all the parties involved, the Fire and Rescue services that were in attendance, as well as the mass disaster incident crews that were on standby.
ER24 looks forward to future events that may take place at the Kyalami international race track.
Also view: