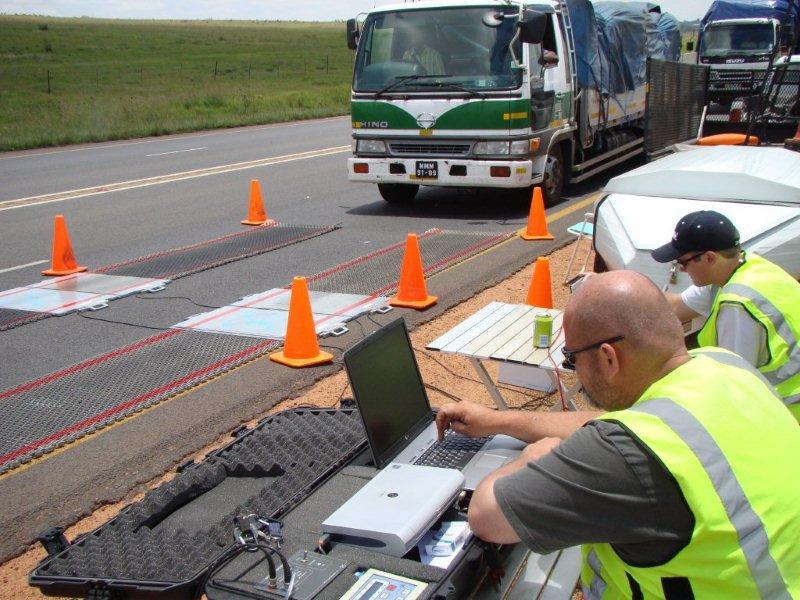 This will become a common sight across the country as more and more road authorities are equipping themselves with the MASS5000 Weigh in Motion System.
Many road authorities across the country are equipping themselves with the MASS5000 Weigh in Motion Systems to do pre-screening of heavy vehicles. Due to the fact that this is a portable weighing system which allows swift and effective testing, the law enforcers can now pre-screen heavy vehicles on their secondary roads as well as in front of their enforcement weighbridge.
For the responsible road user this is a welcoming site. After having been pre-screened, no legal heavy vehicle will be diverted to the enforcement weighbridge. This can sometimes be over quite a distance. By pre-screening the heavy vehicle traffic at the enforcement weighbridge enables them to filter out the legally loaded from the overloaded vehicles. No more delays in waiting in long queues at the enforcement weigh bridge.
Those hauliers who overload their trucks for own gain won't know where and when the Metro Police will be active pre-screening with MASS5000. They will ultimately be caught and prosecuted.
This will benefit not only the entire road freight industry but also our precious road infrastructure. This will result in fair practice in the industry as well as increased road safety. The recent spate of truck accidents just highlights the danger these unsafe heavy vehicles are to the general road user. An accident involving a truck is just so much more devastating and results in more road deaths, traffic delays as well as increased road damage.
With the rolling out of the AARTO system which will be implemented later this year, these demerit points against role players in the freight industry will have devastating effect on their entire operation. This is what the industry needs. This means that unlawful operators will ultimately be eradicated.
Those transport operators who are serious about their green footprint status will benefit immensely when they become a RTMS accredited member. RTMS is an industry- led, self-regulation scheme encouraging road logistics operators to implement a vehicle management system that preserves road-infrastructure, improves road safety and increases productivity.
The first requirement to become a RTMS accredited operator is to have some system in place that can weigh the axles of their fleet before embarking on their journey. The MASS5000 is the ideal system for this.
MIKROS SYSTEMS is one of the world leaders in traffic classification and management systems, supplying 90% of traffic management equipment to SANRAL. MIKROS SYSTEMS also supply to many countries worldwide.
MIKROS SYSTEMS are the designers and manufactures of the MASS range of products with offices and manufacturing facilities in Pretoria.
View more information on: