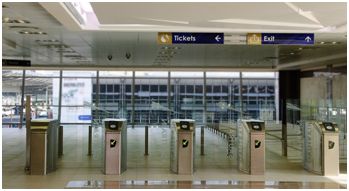 Gautrain today released ticket fare prices for those services that will be operational from 08 June 2010. These services include a train service linking stations at Sandton, Marlboro, Rhodesfield and the O.R. Tambo International Airport as well as bus routes from Sandton and Rhodesfield stations.
Initial fare estimates were made in 2002 by the Gauteng Provincial Government and incorporated into the Gautrain Concession Agreement signed in 2006. These fares have now been adjusted to account for inflation and also to ensure that the original fare policy is maintained. This fare policy is aimed at making the Gautrain attractive and affordable to broad sectors of the population without competing with existing modes of public transport. As a consequence, Gautrain commuter fares are typically lower than the cost of using a private vehicle for the same journey, but more expensive than those of existing minibus taxis, Metrobus and Metrorail fares.
Various travel options are available to commuters using trains, buses and parking or a combination of these features. Commuters who combine a bus trip or parking usage with a train journey will enjoy reduced rates on the bus and parking components. Special weekly and monthly packages are also available for regular users.
The system will open with two train services:
* The "Airport Service" will link Sandton to the O.R. Tambo International Airport. Airport passengers can board at any station and will pay R100 for a single train trip to the airport. All airport trains go via Sandton station.
* The "Commuter Service" links all the stations with the exception of the airport. A single train trip from Sandton to Marlboro will cost R16.50, from Sandton to Rhodesfield R21.00; and from Marlboro to Rhodesfield R18.50.
Integrated single train plus single bus trips will cost R22.50 from Sandton to Marlboro, R27.00 from Sandton to Rhodesfield; and R24.50 from Marlboro to Rhodesfield.
Parking at any station will cost R9.50 for the first 24hrs or part thereof as long as you also use the train. If you park and do not use the train, the parking fee is substantially increased.
Commuters will access all services by means of a contactless smart card – the Gautrain Gold Card. Cash will not be accepted for passage on the buses or trains or at the parking exit gates. The Gautrain Gold Card allows seamless transfer between Gautrain's train, bus and parking services. Gautrain Gold Cards will be available at a once-off cost of R10 from ticket offices and ticket vending machines at all stations as well as at selected retailers. Value can then be loaded onto the cards on an as-required basis and the cards can be re-used over and over again to pay for Gautrain services. Passengers also have the opportunity of registering their Gautrain Gold Cards at a ticket office which will enable the blacklisting of a card should it be lost or stolen. Un-used value on the card can then be transferred to a new card.
The train and bus services will operate from Monday to Sunday between 05:30 to 20:30. Trains and buses will be available every 12 minutes during peak times (05:30 to 08:30 and 16:00 to 19:00), and every 20 minutes during off-peak times. On weekends the train service will be available every 30 minutes.
[Info from Gautrain.co.za]