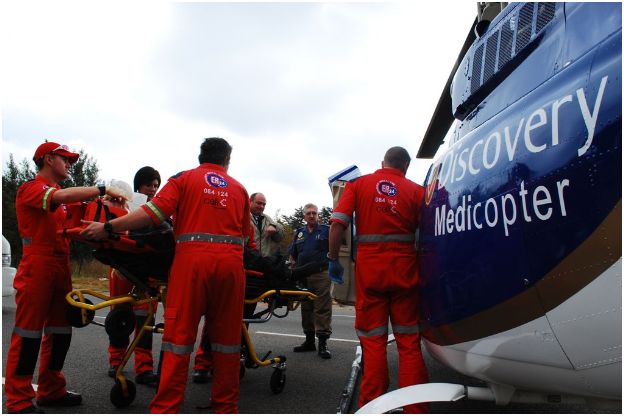 A 33 year old man was left in a critical condition this morning after his motorbike and a bakkie collided on Bergbron and Andes Roads in Bergbron, Roodepoort.
Shortly after 12:25 paramedics received a distress call from members of the public to report the serious incident.
Paramedics that arrived on the scene found the man lying between the bakkie and his motorbike. On further assessment, paramedics found that the man sustained multiple injuries and had to evacuated to a hospital as soon as possible for further medical treatment.
The Medicopter was called to the scene with specialised equipment to assist with the stabilisation of the critically injured man before airlifting him to a hospital in Johannesburg.
Family members on the scene were severely traumatised by the incident.
It is understood from bystanders on the scene that the man was knocked off his bike and thrown several meters before landing in the middle of the intersection.
Gordon and Bergbron Roads were closed for several minutes whilst the Medicopter landed on the site. Motorists and members of the community flocked to the site to see why the traffic was backed up.
It is not clear at this stage what caused the accident. The Johannesburg Metro Police Department attended the scene and will conduct an investigation.
Werner Vermaak
ER24
Also View: