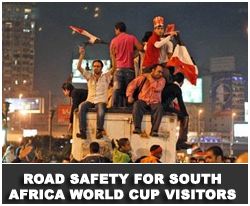 Much has been written on Safety during the World Cup – and on the Arrive Alive website we have shared advice and suggestions on this topic. We have decided to share the suggestions and warnings from a rather unique perspective – an individual from abroad who has been travelling our roads for a while now! He has decided to share advice and safety suggestions to Australian visitors.This is not the official Arrive Alive view but provides important insights and suggestions to our visitors:
"With the upcoming World Cup in South Africa (SA), Australian visitors are bound to use the roads as pedestrians and some may drive. For all practical purposes, the South African Road Regulations (SARR) for drivers and pedestrians are the same as Australian Road Rules (ARR)(2009) except for two SARR which can cause some grief to uninformed drivers. In addition, many soccer enthusiasts, in the excitement of the occasion, may not be as aware of SA road use culture as seasoned overseas travelers might be.  The purpose of this letter is to explain the basis of this concern, hopefully to give intending visitors to SA more specific information for their road safety.
The writer is a retired RAAF officer, married to a black South African and when on holiday, lives in a rural community in the Transkei not far from Queenstown. My driving experience has been mainly in that area of Eastern Cape bounded by lines between Queenstown, Mtata and Port Elizabeth on three occasions since 2000. My sources include discussions shortly before returning home with the head of the Traffic Branch in Queenstown (respectfully referred to as "The Chief"). He was generous with his time and kindly allowed me to copy parts of the South African Road Traffic and Road Transport Legislation  and SAAR.
Overtaking Rules
Attached is information on the regulations relating to overtaking, comparable to ARR Part 11 Division 2 (esp.R134) and Division 3. I refer specifically to SARR 298 (3) excluding the last phrase about accelerating. This SARR seems innocent enough – looks like someone's attempt to instill consideration for others and to promote safety for overtaking drivers. Sadly, it does the opposite. Exercising their "rights" under this regulation, a loophole is exploited by many drivers to their advantage, placing others at risk and imbedding a very dangerous habit.
Before proceeding, I must declare that in my role (not vocation) of teaching learner drivers, I concentrate initially on building the student's skill accurately to track the centre of a lane and maintain "two second" clearance from the vehicle in front. My aim is to instill confidence that this zone (with no tailgating) is their zone of safety – a space they can rely on to be respected by other drivers. This gives me assurance that when confronted (distracted) by instruction on other aspects that the student will maintain a safe position. With this achieved, I will eventually show the exceptions relating to negotiating curves and approaching wide traffic as part of defensive driving techniques.
Picture this, typical of one of my earliest SA driving experiences and impressions:
I was driving on the speed limit, on a one lane each way road, approaching a bend, well beyond the onset of double white lines, when suddenly I became aware of a minibus taxi on my right with passengers seemingly packed in like sardines about as close to the side of my car as the width of this page and closing. I reef my car to the left but he maintained his clearance, now almost fitting into my lane. I noticed approaching vehicles easing over. When he got to the front of my car, he veered sharply left and I waited for a touch but he missed and proceeded.
As time went by, I noticed that other drivers were adopting the same technique – forcing me over so that they could squeeze by, particularly when, in my terms, a decision to pass would be most unsafe. I put this phenomenon down simply to criminal activity. I began increasing use of the rear view mirror until I gave myself another fright on realizing that I was neglecting vital surveillance to the front. On the only three occasions that I recall being passed by police vehicles, two used the same technique. I drive a Kombi, and the small 4 cylinder vehicles they use are, that close, almost invisible. One forced me over, the other simply passed on the other side of the double white lines, giving me a dirty look. Nobody in any circumstance has ever gotten my attention by sounding their "hooter".
I need to declare that  I am one of those "nuisance" drivers with a penchant for driving to the rules. At a 100 km/hr speed limit, my habit is, subject to the condition of the vehicle, road, traffic, weather or myself, to make speed corrections at 95 and 105 km/hr. If I can't maintain this band and I observe someone closing from behind in difficult passing conditions, I will indicate and move to the shoulder and if no shoulder, I will do so at a safe place. But in SA, I notice many drivers defend themselves by going to the shoulder at any sign of a passing maneuver. You may do so, but it's a hazard because the shoulder is often well populated and, not that it really matters in a push, you are not allowed on the shoulder at night. Going too close to the edge on roads with no shoulder is quite risky.
I have been involved in several near misses in the scenario described. Arriving in SA last November, driving through the town of Cathcart, I was passed by a police vehicle, lights and siren going. When we got to his destination we saw where a utility (bakkie) had collided head-on with a  car-carrier that had sheared off the  right hand half; the left hand half was scattered down the road. I don't know what the investigation concluded, but it looked to me like a bad habit in the application of this regulation had finally caught up with someone.
In summary, my view is that a responsibility to maintain clearance from vehicles at the front and to the side is practical and enforceable. My responsibility to "become aware of a vehicle wishing to pass" on the one hand and the passing driver's ability to perceive my decision that I would be  "endangering myself, etc" to deviate from the center of the roadway are far too subjective to be legally enforceable and the Regulation is open to serious abuse.
Four Way Stop Signs
Another question is what to do with multiple vehicles at an intersection with four stop signs. There are no regulations as such on road signs and markings. Instead, these are covered by a Chapter IX on Road Traffic signs, where Regulation 285 (2A) refers one to a Schedule 1 wherein "the significance of all signs is ascribed". Unfortunately, this document was temporarily unavailable but my informant assured me that, for example, centerline markings are classified as regulatory in the same manner and effect as ARR134. http://www.salearners.com/ only illustrates the signs without the supporting legal significance and there is nothing on markings.
I was advised that the rule was "first there, first away". It works – you just have to be aware of who arrived before you. If a vehicle on your left arrives before you, after stopping, don't automatically apply the give way to the right rule.
Road Use Culture
You will be aware of the road accident statistics in SA.  The Chief's opinion was that many drivers simply don't know the rules. There are clearly two entities policing road use, one under the Minister responsible for roadworthiness and licensing employing Traffic Officers and the other, the SA Police (SAP). Traffic Officers police only "static" violations and the SAP, I infer, police all including "moving" violations.   I get the distinct impression that legislation drafted in the mid 1990s resulted in some sort of "bun fight" not yet fully resolved. You will often be obliged to pull over to have a chat with one of The Chief's crew, but I personally have not seen any sign of activity, by SAP, with drivers in motion. The most blatant breaches of the traffic regulations and general behavior I have observed were by taxi (minibus) drivers, those with (for SA) powerful, expensive cars and the Police. Incidentally, my attention has not been particularly drawn to the behavior of heavy vehicle drivers. For others, while reckless driving is very noticeable, speeding has also not attracted my attention very much more than it does at home.
The Chief informed that in the major cities, police do have some powerful cars but confirmed that, elsewhere, they are mainly equipped with small four cylinder motors. This explains to me why there seems to be no active police presence on the roads. The further you get from the large centers, the more lawless it becomes. Police here and in SA are at war and need to apply their resources on the most pressing front. The situation on the roads would hardly be the most pressing problem for the SAP, politically and for the individual member.  The cost of 100 Commodores Specials would provide many more VW Golfs, for greater mobility, and speed cameras. Maybe so.
It is imperative for Australian visitors to keep in mind that some of the most basic road laws are not obeyed. As a pedestrian, do not expect to get right of way at any intersection or pedestrian crossing. At the main intersection of Queenstown you can feel a bit foolish standing waiting for a green light; pedestrians cross when they see the road clear, regardless of the lights. I have, with care, tested what happens if you assume turning drivers will give way to pedestrians when the lights are green. At another intersection, with a shout from someone:  "Look out! Meneer", I was almost cleaned up by a left turning police car at a pedestrian crossing with the "little green man" still showing– not the driver's "fault", I just forgot how the local system works!
Bear in mind also that most of the population not so long ago did not drive cars and had no rights. Now they are on the road, with rights, and fiercely demand them, even in circumstances where to do so would be, to us, a time to apply "road craft" as a sensible option. There is provision in the Act for programs aimed at education in schools. In my extended family, I find no sign of there being such a program in place in our district.
Recommendation
I recommend promulgating the SA regulations mentioned and some appropriate cautions about pedestrian safety in Smart Traveller Advice for visitors to SA for the World Cup."
Also View:
Content by: Gordon Leo (Wing Commander, retd)