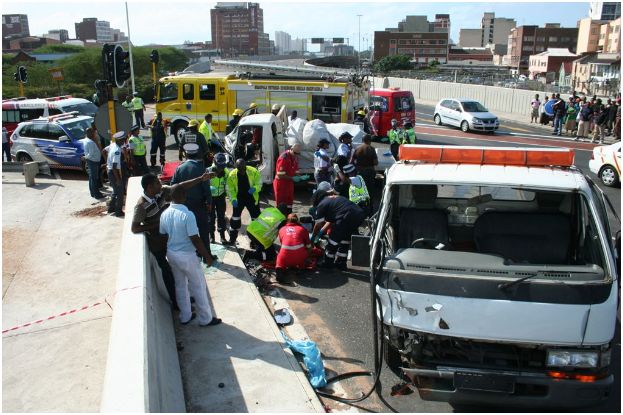 One person is in a critical condition and another two have sustained serious injuries after an accident at the intersection of Russell and Leopard street in Durban CBD involving a delivery van and a truck this morning.
ER24 paramedics arrived on the scene to find two patients entrapped in the delivery van and another patient was mechanically entrapped in the truck. The passenger of the delivery van was in a critical condition and needed advanced life support intervention to be performed on him. The patient was intubated and manually ventilated. The driver had suffered possible neck, back and chest injuries and was in a serious condition. Both patients were extricated by means of the Jaws Of Life and other hydraulic equipment. The driver of the truck had suffered possible neck, back and chest injuries. All patients were transported to St Augustine's Hospital for further medical care.
It is unclear who was at fault but the necessary authorities were on the scene and would be investigating the accident further.
Leopard Street was closed from Grey Street and traffic on Russell was diverted into Warrick Triangle.
Derrick Banks
ER24