Will we be ready for the SWC? 87% give an emphatic YES!
BRYANSTON – 87% – the highest percentage to date – of South Africans are confident that we are ready for the World Cup, now less than a month away, concludes African Response's 2010 Barometer. Durbanites are the most optimistic where an outstanding 96% believe that South Africa is ready!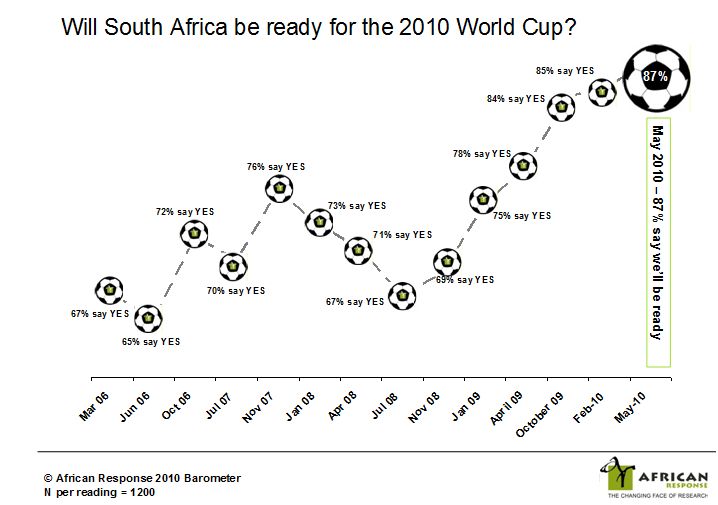 Who's watching, who's working?
23% of urban-dwelling South Africans indicated that it is extremely likely that they would be attending one of the matches live. As could be predicted, it is our young adults in their twenties and early thirties who are most interested in attending live matches (a third of them). Enthusiasm also peaks among those in Johannesburg (32%), where soccer fans are also hoping to be at the stadium to watch while only 12% of Capetonians are extremely likely to go. Perhaps there are just fewer soccer enthusiasts in Cape Town, or this could be due to the fact that between Ellis Park and Soccer City, there are more games on the go in the Johannesburg area.
Almost half (48%) of our survey participants stated that they would be very likely or extremely likely to make use of the fan park facilities to watch the games. The likelihood of attending a fan park to take advantage of the free public viewing in an exciting and charged setting is most pronounced in Johannesburg (58%) and Pretoria (56%), and lowest in Durban, where only 37% are very likely to attend. This is perhaps due to the fact that there is currently only one fan fest venue in Durban and being that it is situated on the beach front, may not be an easy location for KZN residents to go to.
With all the games being broadcast on SABC, 89% of metro South Africans state they will be watching the games on television – 92% of males and 85% of females.
For those concerned about productivity, employed South Africans were asked whether they would be taking time off during the World Cup. 43% of urban working South Africans stated they would be and of those, the majority (76%) plan on taking 5 days or more off.
Bafana Bafana
Despite the multitude of yellow shirts being sported on "Football Fridays" around the country only 65% of those interviewed believe that Bafana Bafana is ready for the World Cup. While most would agree that this is still relatively low, support is up 10% from African Response's last reading (55% in February), perhaps in a display of nationalism or renewed faith in our local team.
When asked which African team they would support if Bafana Bafana failed to make it to the quarter finals in the World Cup, 22% state that they will back Cameroon. 42% state that they will not support any other African countries, and go for international teams instead.
Other African countries that were mentioned include Nigeria (15%), Ghana (12%), Ivory Coast (6%) and Algeria (3%).
Increased confidence in Airports
Of all the aspects that have been addressed ahead of the World Cup, the new stadiums continue to enjoy the highest levels of faith from the South African public – confidence now standing at 93% from 89% earlier this year. An incredible 98% of Durbanites gave the stadiums the thumbs up. Readiness of the airports has also seen an increase in public backing (84%) since the last reading in February this year. The King Shaka airport in Durban was unveiled last week and marked the completion of the improvement programme to our airports around South Africa.
There has been a slight increase in those that would bet on the readiness of policing and security during the SWC, possibly as a result of the increased communication from the Commissioner of Police. This has increased from 69% in February 2010 to 71% in May 2010.
The South African public is marginally more optimistic about electricity supply during the World Cup with 62% believing Eskom will meet the requirements during the event. This is up from 59% last reading. Least convinced, was the Durban population, with 54% that believe that the lights will stay on for the duration of the tournament.
Confidence in our Public Transport is up, too (73%). Possible reasons include the launch of the Gautrain's first segment due three days before the opening game and the BRT apparently suffering fewer teething problems, although analysts have suggested that there is not enough transport between the major venues for the World Cup games.
But while confidence in public transport climbs, assurance that our roads will be ready has suffered a decrease in public support, with only 62% stating that they believe it will be ready. As the World Cup draws so close, it is unsettling to observe such traffic congestion, potholes and construction still under way in most of the major centres. Confidence is lowest in Pretoria at 50% and Cape Town at 52%.
South Africans are positive that restaurants will be capable of catering for the World Cup guests (91%) and 88% believe that our many accommodation facilities will be sufficient.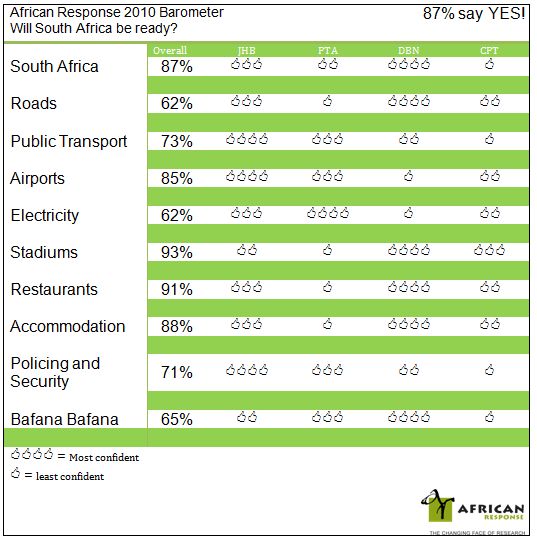 "Can you feel it?"
Nine out of ten respondents are looking forward to the World Cup and when asked which one word described how they felt to be South African during this period, 18% used the word "pride" while 17% felt either "happy" or "excited". 5% used the word "Ayoba" in keeping with MTN's campaign around the event.
87% believe that the South African people are ready to play host to the now-estimated 373 000 visitors who will be arriving in South Africa in just a few short weeks. With increased confidence in our readiness and in our team, the wait is nearly over – bring it on!
– end –
Also view:
Road Safety during the 2010 Football World Cup in South Africa
Also view:
About African Response
African Response is the most empowered, black owned, black managed research agency in South Africa. Established in an equity relationship with Synovate we offer a full complement of research skills.
African Response prides itself upon an exceptional ability to understand and interpret the needs of the South African black urban and rural consumer. We offer clients customized qualitative and quantitative research, innovative ideas and practical solutions. African Response's vision is to significantly improve clients' business performance and to achieve excellence through utilization of the wide knowledge and experience of our partners.
More information can be found at www.africanresponse.co.za