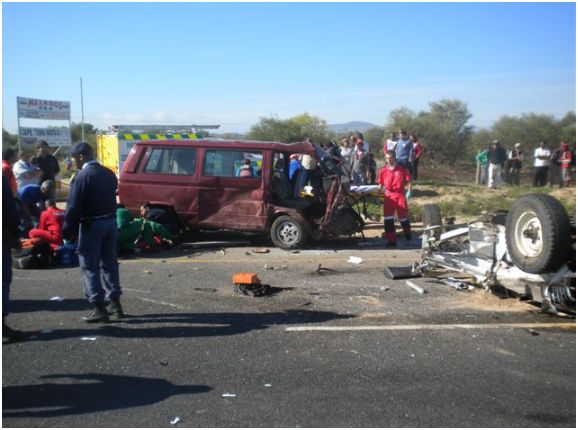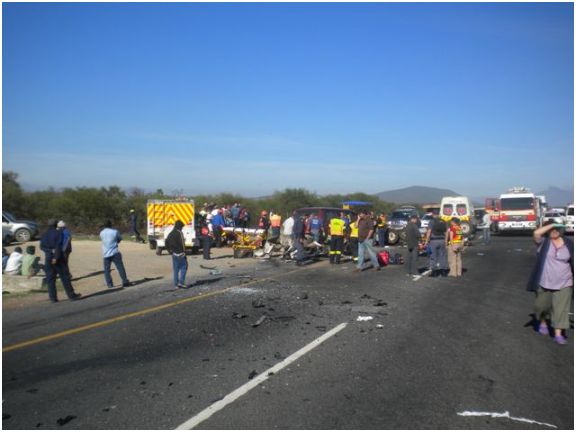 Two people died and nine others were injured in a collision involving a Kombi, Land Rover and VW Caddy, on the Melkbos 4×4 turnoff, on the R27.
[This is a notoriously dangerous spot on the R27. Drivers (travelling FROM Cape Town side) whom wish to turn righ, often find them selves in a dangerous situation where traffic from behind make no attempt of slowing down – often swerving left (in-front of a bus stop) to avoid an accident like this. -Info Johan Veldsman]
One person was dead on arrival of emergency services, two people were trapped in the front of the Kombi, and the other patients were scattered around the scene.
The two trapped patients were cut from the wreckage by rescue crews using hydraulic rescue equipment. One of the trapped patients died on the scene shortly after being extricated from the vehicle.
The other patients sustained minor to serious injuries and were taken to various surrounding hopsitals for further medical treatment.
Police were in attendance and are investigating the circumstances around the collision. The R27 was closed in both directions while emergency services worked on scene.