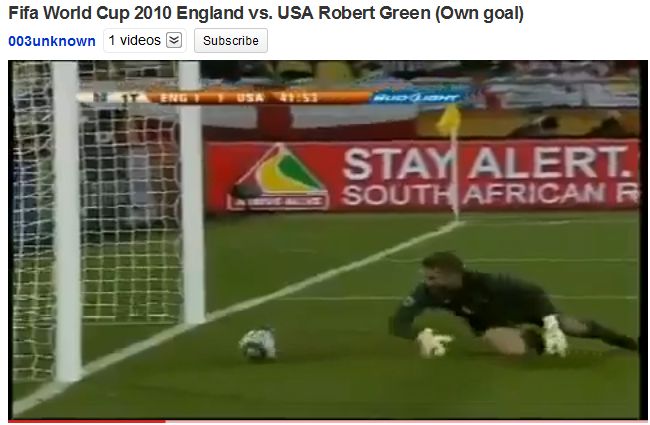 It is nice to see the Arrive Alive Logo also displayed at the Football World Cup 2010!!
Here it is clearly visible – with the request to stay Alert – as Robert Green fails to do so for England and concedes a goal against the USA!!!
Also view:
2010 Football World Cup and Safety on the Road
Road Safety during the 2010 World Cup in South Africa
•    www.sa2010.gov.za
•    Road Safety advice for foreigners travelling through South Africa
•    Spectator Safety on the Road to the Sports Stadium
•    Route Planner and Planning your trip in South Africa
•    How to handle an emergency
•   Guide to Safety and Driving on Safari
and
We would like to urge all our visitors to save these mobile website domains on their mobiles:
Arrivealive.mobi
m.sa2010.gov.za
We would like to wish all our football supporters a safe and enjoyable 2010 FIFA Football World Cup!!