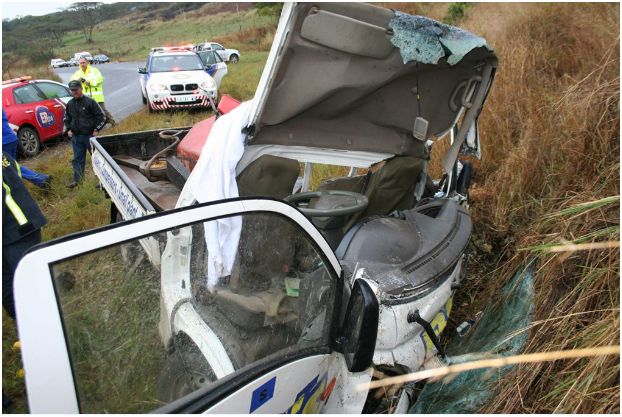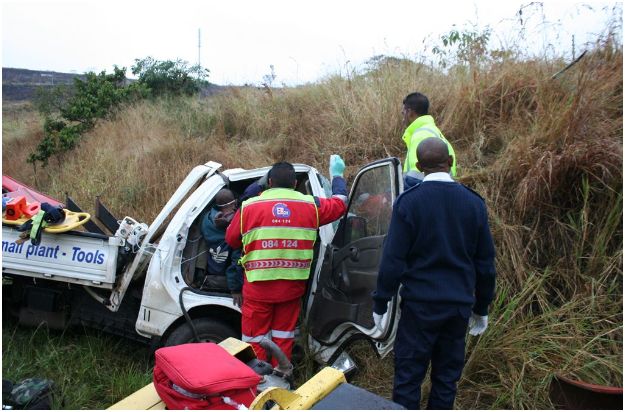 A driver and his two passengers have sustained serious injuries after the vehicle they were travelling in left the road and crashed into an embankment on the old Wartburg road in Eastwood, Pietermaritzburg this afternoon.
ER24 paramedics arrived on the scene to find the vehicle that was carrying construction equipment scattered across the verge and the driver and his two passengers were entrapped inside the cabin of the vehicle.
The driver, who was mechanically entrapped, was the first to be freed from the wreckage. He had sustained possible neck and back injuries. The two passengers were entrapped and required specialised hydraulic equipment and the Jaws Of Life by the Fire Department to help extricate them from the vehicle. Advanced life support intervention had to be done while Fire Department were extricating. One of the passengers sustained a possible fracture to his leg. All three patients were stabilised on the scene and transported to Pietermaritzburg Medi-Clinic in a serious but stable condition.
It is believed that the driver and his two passengers were on their way back towards Pietermaritzburg when they took the corner and lost control in the wet weather. All necessary authorities were on the scene and would investigate the accident further.
Derrick Banks
ER24