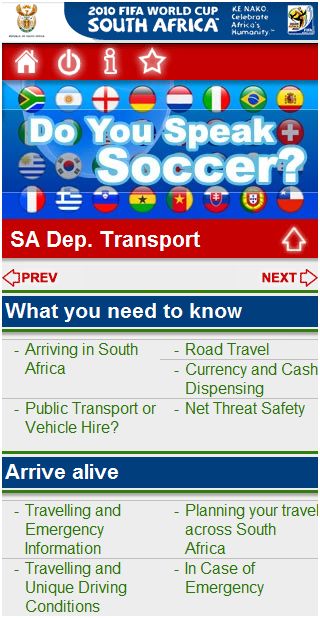 Fifa's official Web site and Google have partnered to help supporters keep track of how each team is doing throughout the tournament.
Fifa says the partnership has culminated in a range of online features to assist fans. "Whether you're searching for Fifa World Cup news or want to voice your opinion on a player's performance, we have a number of ways for fans to stay on top of the action."
Click here
Matt Stone, head of Fifa New Media, says this initiative will give the global soccer community ease of access to the information they crave. "From live feeds to in-depth data on matches, teams and venues, Fifa.com and Google provide every Internet user with a privileged, personalised experience of the World Cup."
Fan features
Fans can follow their favourite teams, while browsing the Internet, with the FIFA.com Chrome extension, says the soccer governing body. They can get a live feed of World Cup results, news and match statistics and can personalise the gadget for alerts of goals scored by a specific team as they happen.
Supporters can see the latest scores and schedules in search results: "Search for 'world cup', 'world cup spain', 'world cup group g' and more, and you'll see live scores, latest results and match schedules at the top of your search results. You'll find quick links to game recaps, live updates, standings and team profiles on Fifa.com."
World Cup followers can also be updated about the tournament via personalised home pages. With the iGoogle Gadget they can get the latest information on teams, players and matches streamed to their own home page, says Fifa. The "venues" tab also provides a closer look at all the stadiums.
Fifa's official site and South African Tourism have used Google Maps to add information about the host cities, stadiums and attractions, giving people easy access to these sights with Street View and 3D views, adds Fifa.
Access to all of these features from the Google-Fifa partnership can be found via www.google.com/worldcup.
10 billion views
Fifa.com has also added some new features specifically for the World Cup.
"In 2010, for the first time, Fifa.com users will select the Man of the Match for each of the World Cup's 64 games. To interact with Fifa.com and other fans it is simply a matter of joining the free Fifa.com Club," says Fifa.
It adds that the site will provide in-depth World Cup match data and statistics, ranging from top-level information to key game statistics, plus granular data, such as blow-by-blow detail on passes, each player's speed, and distance in the course of each match.
The site is predicted to generate over 10 billion page views during this World Cup.
[Story appeared on ITWeb.co.za]

Also view:
2010 Football World Cup and Safety on the Road
Road Safety during the 2010 World Cup in South Africa
•    www.sa2010.gov.za
•    Road Safety advice for foreigners travelling through South Africa
•    Spectator Safety on the Road to the Sports Stadium
•    Route Planner and Planning your trip in South Africa
•    How to handle an emergency
•   Guide to Safety and Driving on Safari
and
We would like to urge all our visitors to save these mobile website domains on their mobiles:
Arrivealive.mobi
m.sa2010.gov.za
We would like to wish all our football supporters a safe and enjoyable 2010 FIFA Football World Cup!!