It is believed that more than 300,000 foreign visitors will be supporting their football teams during the next month. South Africans have yesterday showed their support for the Bafana Bafana and images of the pre-tournament celebrations have been shared with the rest of the world. The term "Vuvuzela" has even been a trending topic on Twitter!!
South Africa is ready to host the World Cup – and will make this a World Cup to remember!!
It was revealed yesterday that the only concern from the Organizing Committee still remains the Transport requirements and whether all these supporters will arrive in time at the various destinations.
Many different websites from Government and private institutions are offering travel and safety advice to football supporters! Information offered differs from location and stadium details to accommodation and travel advice.
Not one website will easily provide all the information that might be required – but through cooperation and sharing information and links – our travellers should be able to find what they are looking for!!
On the Arrive Alive website we have over the past year developed several pages of content to create awareness of road safety for our foreign travellers.
2010 Football World Cup and Safety on the Road
Road Safety during the 2010 World Cup in South Africa
•    www.sa2010.gov.za
•    Road Safety advice for foreigners travelling through South Africa
•    Spectator Safety on the Road to the Sports Stadium
•    Route Planner and Planning your trip in South Africa
•    How to handle an emergency
•   Guide to Safety and Driving on Safari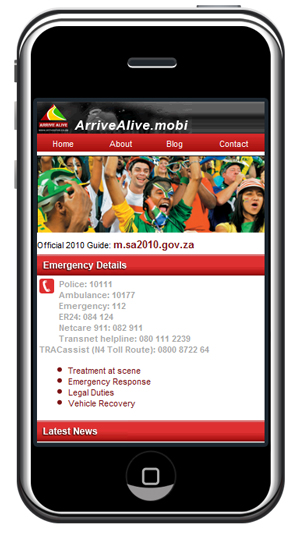 Mobile Websites and Emergency Information
We have recognized that for many of these visitors their only access to the internet might be via mobile phones. Safety suggestions have also been added to the Arrive Alive.mobi website and emergency numbers have been made easily available.
The Official 2010 website at m.sa2010.gov.za provides important information to our Football Supporters
We would like to urge all our visitors to save these mobile website domains on their mobiles:
Arrivealive.mobi
m.sa2010.gov.za
We would like to wish all our football supporters a safe and enjoyable 2010 FIFA Football World Cup!!