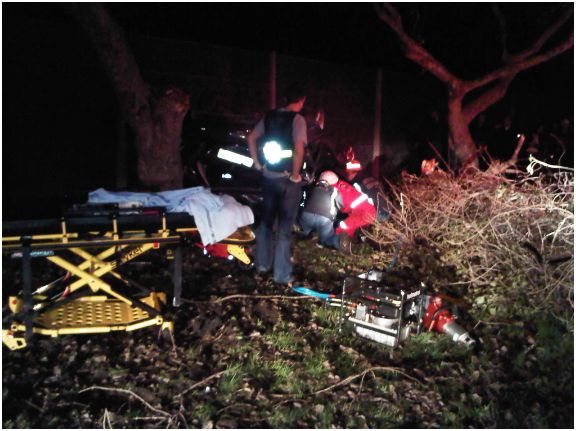 The ER24 paramedics were driving along the M5 toward Muizenburg when they saw light flashing in the distance. As they approached they saw a number of cars had stopped on the side of the road with their hazards on. They stopped their vehicle to inspect, and saw a Toyota RunX lying on its side, up against a tree.
The paramedics quickly learned that there were two possible patients that were injured, and one was still inside the wrecked car. They then phoned for Fire and Rescue services to assist will they assessed the patients.
A twenty five year old male was found outside the car on the ground, complaining of severe back and neck pain. It seems that he was ejected from the vehicle's front passenger seat as it had rolled. He was fortunate to have sustained what seems to be moderate injuries only.
The twenty five year old woman inside the vehicle was still entrapped in the driver's seat, and she was bleeding profusely from multiple cuts to her face. The paramedics managed to control her bleeding, and also treated her for a suspected head injury. Fire and Rescue services had to cut her out of the vehicle using the Jaws of Life, and she remained in a stable condition throughout.
Both patients were transported to nearby hospitals where they will undergo the necessary further medical treatment. No other vehicles were involved in the accident, and it is unclear as to why the RunX left the road and rolled.
Vanessa Jackson
ER24