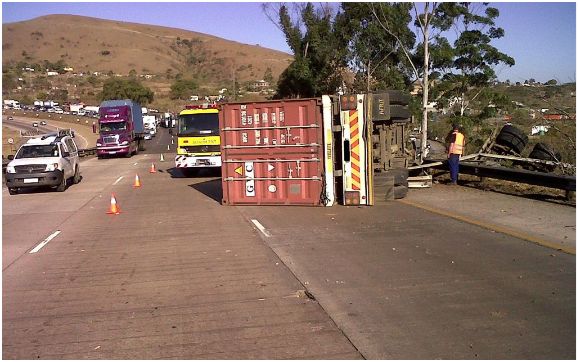 Traffic almost came to a standstill after an articulated truck lost control and rolled down an embankment, leaving the trailer lying in the left hand lane of the N3 towards Pietermaritzburg at the bottom of Peacevale this afternoon.
ER24 paramedics arrived on the scene to find the cabin part of the truck down the embankment, with the trailer still connected to the truck itself lying on the road. The driver who is in his early twenties was found seated at the top of the embankment. He had suffered minor injuries and was transported to Crompton Hospital for further medical care.
It is believed that the trailer came loose from the truck while coming down the N3. The driver tried to control the truck but lost control and veered off the freeway.
Traffic was severely affected due to this accident. The necessary authorities were on the scene and would investigate the incident further.