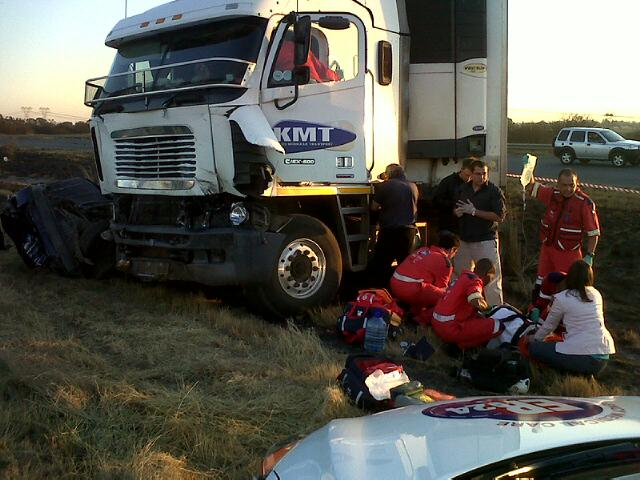 A man believed to be in his early thirties died horrifically on Sunday evening on the R59 between Sasolburg and Vereeniging when his vehicle collided with a truck.
Shortly before 17:00 paramedics arrived on the scene and found a cargo truck wedged against the remains of a vehicle. Paramedics explained that the vehicle was severely mangled.
Bystanders on the scene pointed out that the man was still trapped in the vehicle. Paramedics could barely see into the mangled wreck. The local fire department had to use rescue equipment to open pieces of the car. The man was found inside the vehicle with multiple fatal injuries.
The truck driver and his passenger, believed to be his wife, was also injured in this accident. Both of them were treated on the scene for minor to moderate injuries and transported by ER24 to Vereeniging Medi Clinic for further medical attention.
The exact cause of the accident is not known, but it is understood from bystanders that the vehicle apparently lost control and veered across the middle island into oncoming traffic. Both the truck and the car ended up back on the middle island.
Traffic was slow in both directions on the R59. The incident will be investigated.
Werner Vermaak
ER24