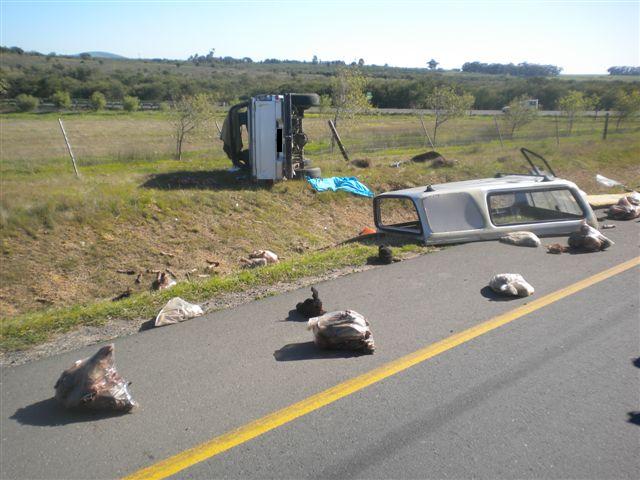 One person died and two others, including a child, were injured when a bakkie overturned on the R304, near the Lichtenberg Road crossing, at the back of Durbanville.
When emergency services arrived on the scene they found a lady, estimated to be in her late twenties, had been ejected from the bakkie and was in a critical condition. Despite the quick treatment of the paramedics her injuries were too severe and she died on scene. The ER24-Discovery Medicopter, which was initially called to airlift the patient, was stood down when the patient was declared dead.
A child, believed to be around the age of six and the daughter of the lady who died on scene, sustained minor injuries and was transported to Tygerberg Hospital. The driver of the bakkie also sustained minor injuries but refused to be transported to hospital.
Pieces of sheep were also scattered around the scene but it was soon discovered that the bakkie had been carrying sheep which had already been slaughtered and packed in pieces.
The cause of the incident is unknown at this stage. The tow-truckers on scene were referring to the incident location as "the crossing of the dead" due to the high incidence of fatalities at the site.