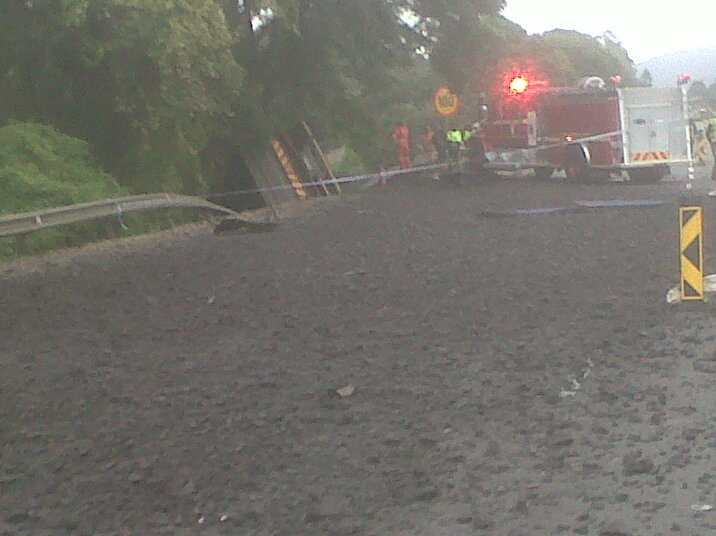 A truck driver, a driver of the light motor vehicle and his passenger have sustained serious injuries after a runaway truck collided into the light motor vehicle and another truck on the N3 North bound near the Chatterton off ramp this afternoon in Pietermaritzburg.
ER24 paramedics arrived on the scene, to find an articulated truck near the off ramp with the side of the trailer ripped apart. Another truck was found partially down an embankment with the driver a few meters away. Further up the road was a light motor vehicle on its roof in the centre medium. Both occupants were found seated on the side of the road.
The driver of the second truck that had gone down the embankment had sustained serious leg trauma and possible neck and back injuries. Advanced life support intervention was performed in order to try save the leg. He was stabilised and transported to Pietermaritzburg Medi-Clinic.
The driver of the light motor vehicle had sustained possible concussion; both driver and his passenger were treated for neck and back injuries due to the mechanism of impact. Both were transported to Pietermaritzburg Medi-Clinic for further medical care.
It is believed that the articulated truck travelling down the N3 towards Pietermaritzburg may have had mechanical problems. The driver lost control, crashing into the back of the light motor vehicle, which rolled before going through the centre medium. The articulated truck then went onto oncoming traffic and side swiped the truck that was travelling up the N3 towards Hilton.
The freeway was closed to traffic while emergency personnel and other authorities were busy on the scene.
Derrick Banks