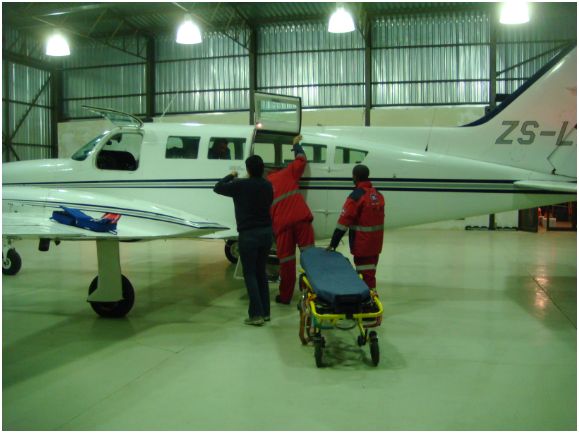 On Monday evening I was present at the emergency air evacuation of a 15 year old motorcyclist who suffered life-threatening injuries at Phakisa in Welkom. It appears that the motorcyclist fell on the course and was then struck by another bike at high speed. Doctors from Welkom made the call to Bloemfontein to assist and Aerocare flew to Welkom with top Trauma Surgeon Dr Andre Loubser and an ICU nurse, Sister Karen Jansen.
The patient suffered extremely serious injuries and attempts were made to stabilise him in Welkom and he was then flown to Bloemfontein airport under constant medical supervision and treatment inside the plane. The medical services provided inside the plane is an extention of that from within a trauma ward and the expertise from a specialist such as Dr Loubser can be the difference between life and death.
The patient was transferred at the airport to an ER24 road ambulance and taken to Bloemfontein Medi-Clinic. The patient remains stable but in a very serious condition.
Also view:
Aerocare, Emergency Air Evacuation and Road Safety