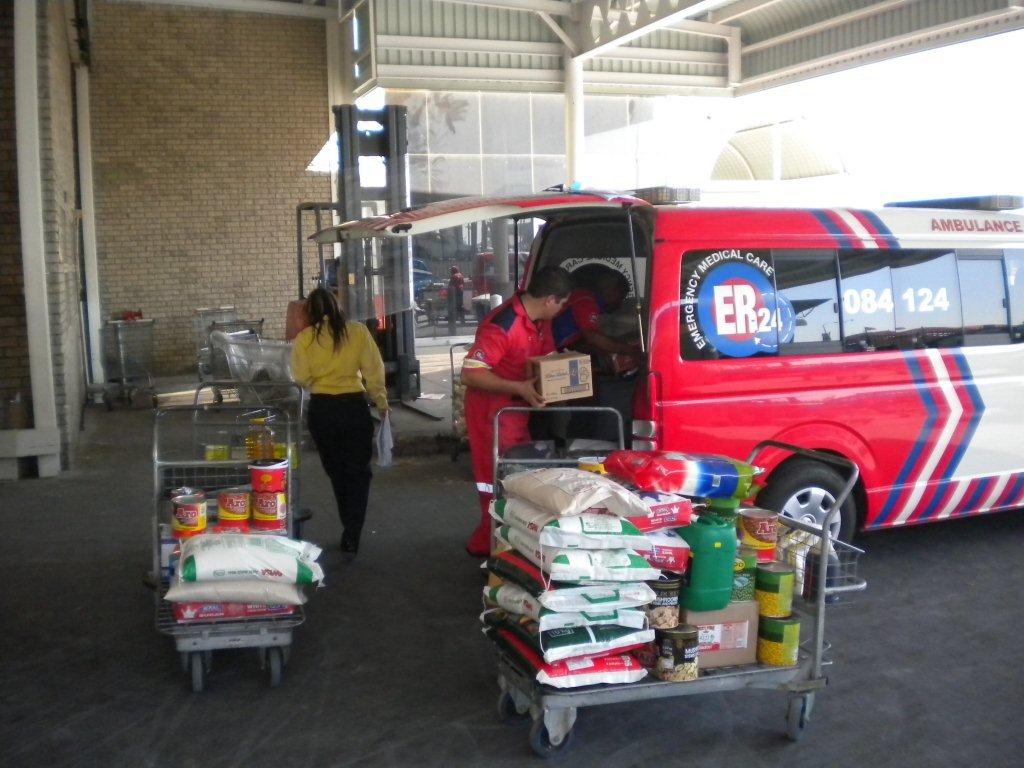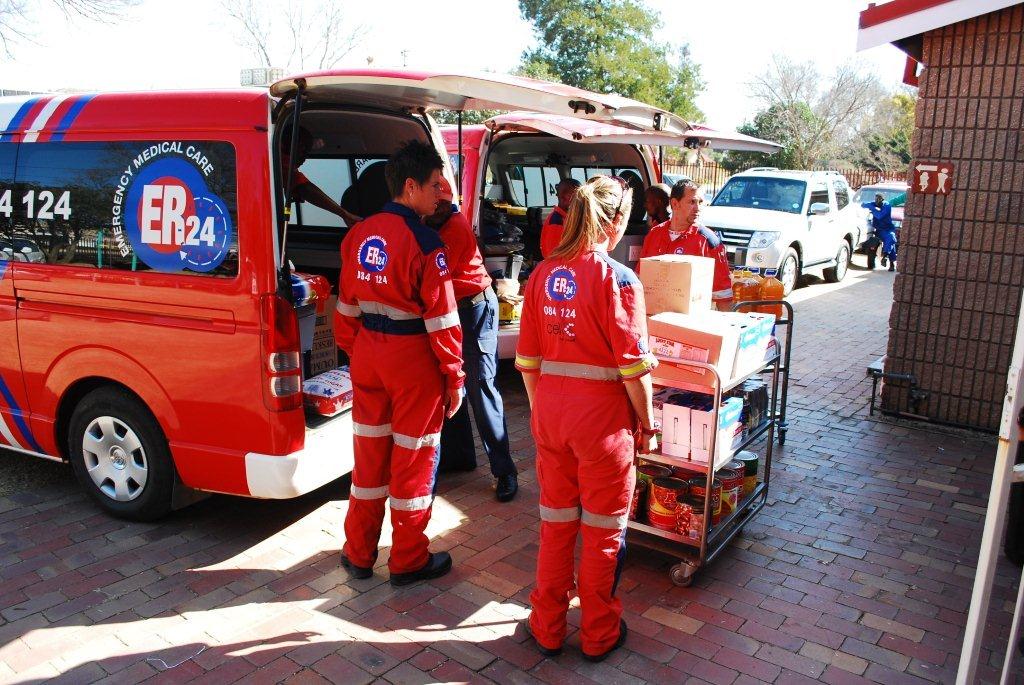 On Monday 2 August 2010 the news broke of a horrific fire at the Peter Wessels Old Age Home in Nigel. Initial reports on several electronic and print media explained that 18 elderly people died and over 80 were left stranded with only the clothes on their backs.
This morning news broke that four more elderly people died in hospital.
ER24 initiated a social network alert within our company to contribute in any way possible. Soon we were inundated with people all over South Africa offering assistance and requesting to make donations. Late yesterday afternoon ER24's original Tweets and messages on Facebook tripled.
We were stunned when we received a phone call from Makro Head Office offering their support. Makro Head Office, Makro Germiston and MASSMART Holdings Limited, informed ER24 that they would contribute a total of R18 000.00 in goods to assist the elderly.
Today ER24 took two ambulances and a response vehicle to Makro Germiston to assist with the shopping spree for the elderly. They were so kind to donate 84 toiletry bags, which included shampoo, soap, face cloths, towels, toothbrushes and many more items. On top of this we loaded the two ambulances full with food and other items that would be needed.
As we thought that this would be it, we received more information of people that would wish to contribute. ER24's staff from Johannesburg East and even as far as Vereeniging drove through to Nigel this afternoon to handover items.
A total of four ambulances and two response cars were filled with items.
Emotions ran high at the ER24 offices today as well as at the AFM Church in Dunnottar where the items were handed over. It was truly amazing to see and feel the community involvement and especially at such a short notice.
We were also informed this afternoon that an elderly lady from the fire had to be transferred to another Old Age Home. ER24's Johannesburg East Branch offered to do the transfer free of charge.
Some of the paramedics explained that it was difficult experiencing at ground zero such a disaster.
We would like to thank everyone that came forward and those that pledged something towards the need of those that suffered and lost their live at the fire.
Please find a list below of people / companies that made today's donation possible. I do apologise if I have left anyone out.
1. Makro Head Office Johannesburg, Makro Germiston R 10 000 Food / Consumables, etc.
2. MASSMART Holdings Limited R 8 000 Toiletry bags (84)
3. Guy Hayword – Chief Financial Officer MASSMART
4. Brian Leroni – Corporate Affairs Executive MASSMART
5. Kevin Vuvyan-Day – CEO Makro South Africa
6. Medi Clinic Head Office Stellenbosch Financial Assistance
7. Karen Worth – MASSMART General Assistance
8. Rose Duffey – MAKRO SA General Assistance
9. Menlyn Park Shopping Centre SMS Donation Line
10. Michael Cannon Part Time Medical Assistance
11. Linda Scott Pledge
12. Sharon Cronje Financial Assistance
13. Events & Pageants SA Pledge / General Assistance
14. Word Christian Church Pledge
15. ER24 Vereeniging Branch
16. ER24 Johannesburg East Branch
17. ER24 Special Events Department
18. ER24 Medicopter Ground Support Unit
19. Adv. Johan Jonck – ArriveAlive.co.za
20. Makro Germiston Staff
A community was brought together through a disaster, and lifted up with your assistance and kindness. Our thoughts and prayers are with everyone and their families.
END
For more information please feel free to contact me.
Kindest Regards,
Werner Vermaak
EMCL Coordinator
ER24 National & International Regions
ER24 EMS