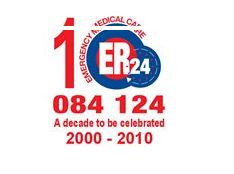 THE CONCEPT
ER24's concept was developed by Medi-Clinic Corporation and Afrox Healthcare in response to market
conditions.
THE COMPANIES
Initially there was Emergency Room Company with Medi-Clinic Corporation and Afrox Healthcare each owning 50 percent. Emergency Room 24 was then established with Emergency Room Company owning 66 percent and Medical Rescue International (MRI) owning a 33 percent share.
Emergency Room Company took care of the Suppliers and Contracts whilst Emergency Room 24 looked after the operational aspects. During this period MRI handled the Call Centre and International SOS assisted with Medical Advice Lines. Emergency Room Company had sixteen independent ambulance services as service providers.
THE CHIEF EXECUTIVE OFFICER
Mr Andrew Boden joined Emergency Room 24 on 1 August 2000 and was appointed as the Chief Executive Officer.
THE LAUNCH
The board decided to shelf Emergency Room 24 and launch ER24. The official launch took place at the Mount Nelson Hotel in Cape Town on 24 August 2000.
THE SHARES
Early 2001, MRI sold their 33 percent share to Emergency Room Company. Now with equal shares, Medi-Clinic Corporation and Afrox Healthcare became the holding companies of ER24. From 2002, ER24 launched a corporate expansion campaign and proceeded to purchase a majority of the sixteen service providers. Subsequently Afrox Healthcare sold their shares to Medi-Clinic Corporation and ER24 became a wholly owned subsidiary of Medi-Clinic Corporation and was registered as ER24 EMS (Pty) Ltd.
TODAY
Today ER24 EMS (Pty) Ltd. trading as ER24 is one of the largest private, national Emergency Medical Care providers in South Africa, providing realhelprealfast to each and everyone in the country. ER24 owns its entire fleet of ambulances, rescue vehicles and National Emergency Contact Centre.
Looking forward to another 10 exciting years!