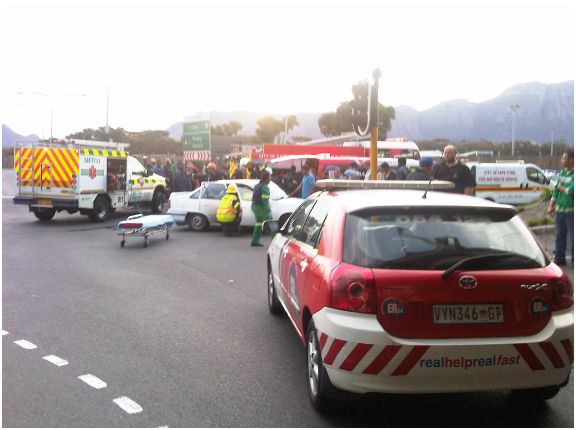 A bakkie collided into the side of an Opel sedan at the corners of Ottery Road an the M5 in Cape Town.
It is believed that the bakkie was transporting 5 workers when the collision occurred. The side of the Opel was badly damaged, and the woman who was seated in the passenger side of the vehicle was unable to get out. She had sustained possible neck and back injures and a suspected broken arm. While paramedics stabilised her and protected her spine, the Metro Rescuers used the Jaws of Life to cut away at the vehicle. After approximately thirty minutes she was freed and loaded into the waiting ambulance.
The driver of the Opel was also transported to hospital with moderate injuries while two of the occupants of the bakkie sustained minor injures. They too were transported to hospital by road ambulance.
The exact cause of the accident is not known and will need to be investigated.
Vanessa Jackson
ER24