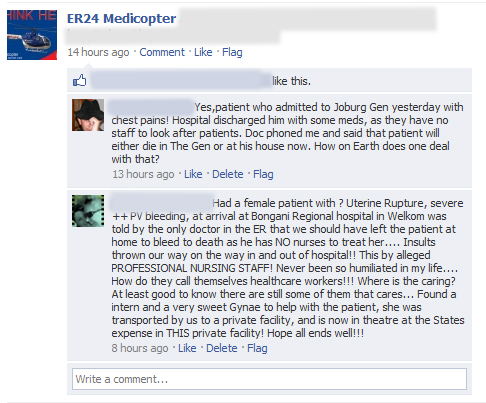 The Golden Hour is under threat as paramedics cannot enter hospitals in certain areas to obtain life-saving emergency medical treatment. In the past few years, paramedics are trying to stress the importance of the Golden Hour where a patient needs to be seen by a specialist within 60 minutes from his or her injury.
Since the strikes and riots broke out at various hospitals across the country, paramedics are struggling to enter hospital grounds to hand patients over.
In certain areas ambulances were allowed in, but could not hand the patient over as there were limited staff and the patient had to be transferred to another facility.
Yesterday, ER24 paramedics had to airlift a man from Vereeniging to Steve Biko Hospital in Pretoria when two major specialist hospitals were closed in Johannesburg.
Paramedics found a man in Vereeniging with his hand chopped off; the hand was placed on ice and the patient had to be transported to a hospital for emergency surgery to reattach the hand. In a case such as this, time is of the essence as the tissue can die.
The ER24 Contact Centre are dealing with numerous incidents where patients need to be re-routed to facilities outside of the normal operating area.
Paramedics are also fearing for their safety when entering hospitals where protesters are threatening them if they don't leave with the patient.
ER24 appointed a Resource Case Manager in the Emergency Contact Centre to liaise with government departments as to which hospitals can accept critically ill patients.
We also thank the volunteers and the South African Defence Force for assisting at hospitals to ensure that patients receive proper emergency treatment.