Awareness Campaign Arrive Alive – Intervarsity
NWU / UF on 06 August 2010
1 PURPOSE
Alcohol abuse during Intervarsity is a serious problem with students and thus, the aim of the awareness project is to ensure that students are aware of their responsibilities as road users and to ensure that they arrive at their destination safely.
Research in South Africa (confirmed during 2009) showed that the human factor is one of the biggest causes
of road fatalities. Statistics show that approximately 15 000 road fatalities occur per year; which amounts to
more or less 35-40 deaths per day. In other countries, such as New Zealand, there are less than one death
per day – definitely a goal to achieve.
The following factors were focused on during the project:
Blood alcohol levels (measured with a breathalyzer) – less than 0.05%
Vehicles must be roadworthy and tires, indicators, wipers etc. must be in working order
Overloaded vehicles – especially too many passengers during Intervarsity
Use of safety belts
Drivers must hold a valid driver's licence
Inexperienced drivers
2 PROJECT
A safe route was determined with the advice of the Department of Police, Roads and Transport
Traffic officials patrolled the entire route over the weekend
Wesselsbron was used as a half way stop
Drivers were tested for blood alcohol levels
If a student tested over the legal blood alcohol limit, a different driver was nominated for the rest of the
trip, or the students had to postpone their journey until the driver tested 0.00%
Compliance was ensured with a road block outside Bultfontein
A very sociable atmosphere prevailed at the halfway stop
Delicious snacks were sold at the venue and fresh water, energy drinks, coffee and rusks were available to students free of charge
Every student received a whistle with the crisis line contact number
Clean mobile toilets were available
A buddy project ran during the Friday evening of Intervarsity in Bloemfontein
3 INCENTIVES FOR STUDENTS
The first 200 students who tested sober, were rewarded with a R200,00 fuel gift voucher. A further incentive
was that the company Precision Safety Appliance from Pietermaritzburg, who were responsible for the
breathalyzer testing, provided a number of sober drivers with first aid kits and an easy listening CD. Survival
kits were handed out to each student – the contents including coffee, sugar, creamer, an energy bar,
plasters and condoms.
4 ORGANISATIONS INVOLVED
The Department of Police, Roads and Transport – BD Paul and Leonora Labuschagne
Regional Manager: Provincial Traffic Department Welkom Region – Daniël Phatsoana
Municipal Traffic department and the SAPS of Wesselsbron – Pieter Watkins and Capt. Riaan Tait
Arrive Alive – adv. Johan Jonck
Precision Safety Appliances – Thorsten Lotto and Michael Crossland
SAB – Koos Taljaard and Cornel Human
South Africans against Drunken Driving – Caro Smit
Health Care Centre: Social Work Services
Vrystaat Versorging in Aksie – Ria Malan
NWU Potchefstroom Campus
Pitstop-Shell Ultra City – Jean Khouri
Vrystaat Landelike Beveiliging – Anton Muller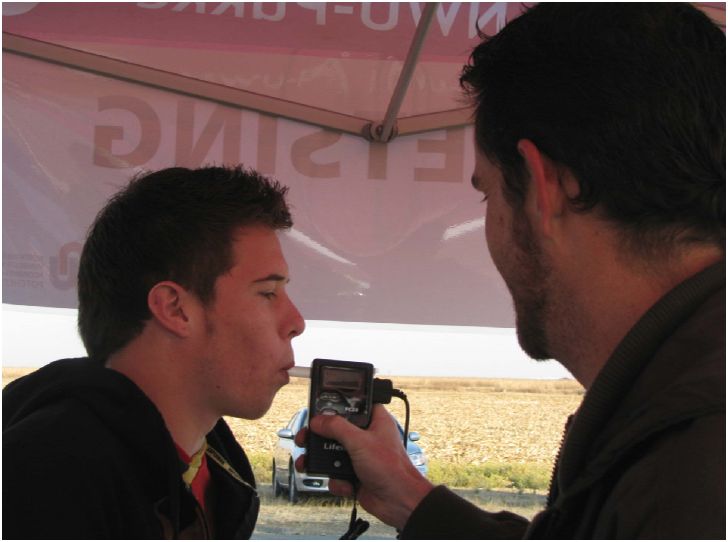 Marketing for the project, with the support of:
1. Bloemfontein:
The Dean of Students – Rudi Buys and Annelize Visagie
KovsieFM – Duard Grobbelaar
Kovsie SRC – Chrisna de Kock
Kovsie Sport – Arno van Niekerk
UF Marketing – Martie Nortje
2. Potchefstroom:
PUK SRC – Chrisna Kraaij and Frederick Botha
Marketing and Communication – Theo Cloete, Kiewiet Scheppel, Anton Pyper, Frik Prinsloo,
Edohan Burger (marketing at the halfway stop as well as sms and e-mail communication to the
students)
PUK FM
The WAPAD student newspaper
5 SPONSORS
Our heartfelt thanks to the following individuals, organisations and departments for their positive attitude,
support and their generous financial contribution:
The Campus Rector – Prof Herman van Schalkwyk
The Director: Academic Administration – Willem Pienaar
The Campus Registrar – Dorothy August
Financial Support Services – Danie Hefer
PUK Sport – James Stoffberg
NWU Potchefstroom Campus Health Care Centre – Dr Emile Kotzé
SAB – Koos Taljaard
Precision Safety Appliances – Thorsten Lotto
Arrive Alive – adv Johan Jonck
UF Vice Rector: Academic – Prof Teuns Verschoor
UF Dean of Students – Rudi Buys
6 VOLUNTEER WORKERS
Many thanks to all who volunteered with the project for their enthusiasm and energy:
Arrive Alive
Precision Safety Appliances
Vrystaat Versorging in Aksie
Provincial and municipal traffic departments and Wesselsbron SAPS
SOS and the Peer Educators for the presentation of the awareness campaigns in the hostels prior to
Intervarsity – under the guidance of Marliaan Erasmus
Dr Corinne Strydom and all the social work students who packed the survival kits
Health Care Centre staff members, interns as well as the masters of ceremonies Barend and Riaan
Social Work Services staff: Petro Cornelius and Danelle Kamffer
Vrystaat Landelike Beveiliging: Anton Muller
UF staff – Annelize Visagie and KovsieFM
7 EVALUATION
The project Arrive Alive – Intervarsity 2010 was a big success again. Approximately 800 vehicles and 2000
students took part in the project just outside Wesselsbron. A small number of drivers did not receive gift
vouchers, since they did not test 0.00%, but were still below the legal limit.
This challenged the students to make use of the rest areas and to be retested later, with the hope that they would qualify for gift vouchers. Students who took part in the project completed evaluation forms and the feedback received was very positive. A large number of students indicated that they wished the project to be part of the yearly Intervarsity.
The project created a golden opportunity in which to make students aware of their responsibilities as road
users. Feedback from UF indicated that the Buddy project in Bloemfontein was also a great success.
8 CRITICISM
The number of vehicles and students that took part in the project exceeded our wildest dreams! In my
opinion the project was still a big success and we still reached the goal of the project. Due to the large
number of students, certain logistical problems surfaced but these problems were solved during a review
meeting with the relevant role players.
All involved parties are very positive about the project and if possible, the project will continue with
Intervarsity in 2011.
Yours sincerely,
Lenie Kotzé
North-West University: Potchefstroom Campus Social Worker