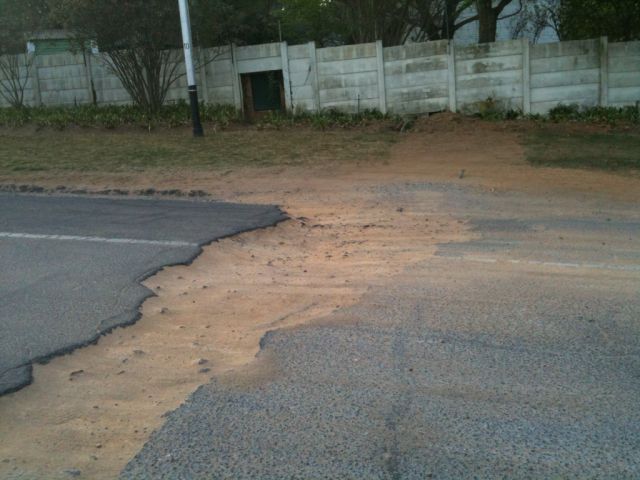 We have recently added new content to the Arrive Alive website on wheel balance and wheel alignment. We have also given a bit more attention to the topic of shock absorbers and safe driving. Potholes and deteriorating roads are contributing factors to the cause of accidents categorized as "environmental factors".
Unfortunately in the present challenging financial environment many road users try to curb their expenditure on travel expenses – and wheel balance, wheel alignment and shock absorbers are often neglected.
Many of our visitors to the Arrive Alive website and Car Insurance Blog have sent images of potholes in their area – and many have enquired about the claims process from damage caused by potholes. Some of this damage might however not be as clear immediately – but could damage other vehicle components or reduce your ability to steer away safely from sudden emergencies.
We would like to quote from the Arrive Alive website on the dangers of not having your wheels aligned:
* Wheels that are not aligned will compromise your safety and the ability to steer the vehicle.
* Out-of-alignment of a car will result in the vehicle continuously drifting or pulling to one side of the road when you let go of the wheel.
* If the wheels aren't going in a straight line it means the tyres will be dragging sideways to some extent – Pulling or drifting away from a straight line.
* This is not only annoying, but the tire that is out of alignment will also wear prematurely and unevenly because of the constant drag placed on its tread.
* As the tread wears away the ability for the tyre to grip wears away with equal rapidity.
* The drag can also impact on fuel consumption.
* Braking, handling, the ability to react to steering input or any form of evasive action becomes compromised.
* This is especially important when the driver has to respond swiftly and change course in an emergency situation.
We would like to urge road users to pay attention to their wheels, tyres and shock absorbers. Your safe driving and ability to steer your vehicle away from danger will depend on these vehicle components!!
Also view: