We would like to share a question sent to the Arrive Alive website – as well as the response received from the Justice Project, South Africa
Question:
Hi i am a professional truck driver for more than fourteen years, accident free. I am driving an articulated truck(interlink). I was on my way from Durban to Cape Town. My speed is 80km per hour with a 10% grace.I was coming down a hill at Escort doing 92km,I was stopped for speeding at the bottom of the hill.
When I was stopped by a traffic officer, I asked if I could see my speed on his speed measuring machine.He showed the speed and it was 92km and the range was 541metres. I asked how he can see that it was my speed at 541metres on a downhill while their were cars and trucks next to me. I want to know what is the law about this situation and the range.
Answer:
I am pleased to see that you acknowledge that the speed limit for heavy articulated vehicles is 80 km/h because it has been my experience that there is a high proportion of professional drivers who don't. The 10 km/h (not 10%) tolerance that is built into speed measurement exercises is there to cater for the fact that most speedometers are relatively inaccurate and, as I have explained to motorists on a regular basis, is not there to say that one may drive at 10 km/h over the speed limit but to ensure that provision is made to cater for these inaccuracies.
Unfortunately, many people interpret this as being OK to regularly exceed the speed limit by 10 km/h where in fact it is not. The fact is that the speed limit is the speed limit and one should always endeavour to stay at or below it.
That having been said, it is extraordinary that traffic authorities mostly trap on downhill slopes in South Africa, seemingly because they are well aware that it is very difficult to maintain one's speed whilst driving downhill. This practice is unethical in the extreme, but it is not illegal. A speed limit of 80 km/h is one thing but they also do it in 40 km/h zones where the possibility of creeping up is extremely high. The lower the speed limit, the higher the probability that it will be exceeded.
But it also must be remembered that a high proportion of crashes, particularly those involving heavy vehicles occur on downhill slopes where an intersection occurs at the bottom of the slope, so the argument only holds so much water and no more. To say that it is always unethical would be wrong, but it is safe to say that it mostly is.
The distance at which you were trapped has relevance, but only if the speed measurement equipment (SME) used was a laser SME. The vast majority of SME in use is laser-based equipment and there is a specific reason why the TCSP guidelines state that no measurement is to be locked beyond 500 metres. This is for the reason that laser (or LIDAR) SME does not use a single beam for the measurement and the further away the target is, the greater the spread will be. This looks like a cone (if one could see it) where it is very narrow at the SME itself and at 500m it spreads to a diameter of approximately 1.5 metres wide. Further than that and it gets really inaccurate.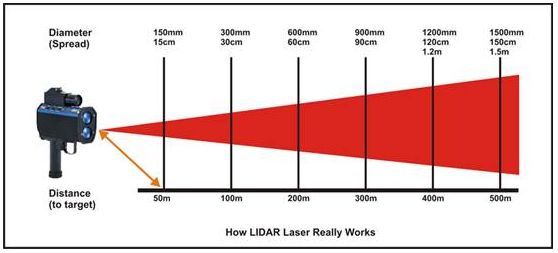 It is more than safe to say that at 541 metres, not only are the chances of the SME measuring and combining the speeds of more than one vehicle extremely good, but prosecution not allowable in court according to the TCSP guidelines. If laser was the SME used then I suggest you take your section 54 summons to the public prosecutor concerned and point out that section 3.4.2(e) of the TCSP guidelines apply and therefore the case must be withdrawn.
If however, a radar SME was used then the maximum distance allowable is 600 metres unless the equipment has been modified or permanently set that no signals are received and processed from vehicles more than 300 metres away may be used on straight roads. Vehicles used to test the modification are vehicles with a tare of not more than 750 kg.
In this case, a distance of 541 metres would be fully acceptable.
The type of equipment used is usually recorded on the section 54 summons and I would suggest that you take a look at it and identify it so you know how to proceed. If you are in any way uncertain what equipment was used, you may scan the notice and email it to me for identification and advice.
Best Regards,
Howard Dembovsky
National Chairman – Justice Project South Africa