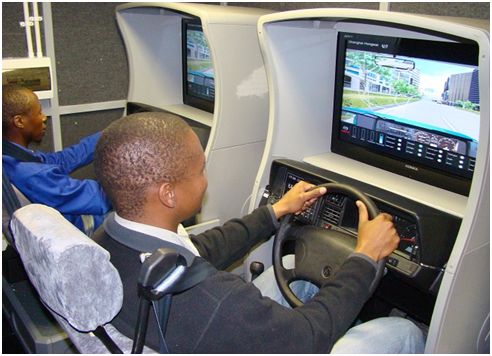 Two of the biggest problems currently in South Africa are unemployment (that is still increasing due to the aftereffect of the recession) and road accidents. Five entrepreneurs from Bloemfontein put heads together and Afsim was born.
Afsim specialises in safe and affordable driver training. This is done with simulators. Afsim focuses on the gap between no driving experience and the experience driving schools provide. It is now possible for learner drivers to practice potential dangerous scenarios in a safe environment. Even with no driving experience, learner drivers can learn to drive in a relaxed environment without being a frustration to the rest of the road users.
A simulator, that is equipped with a 32 inch LCD screen, right hand drivers unit, safety belt end earphones make it a realistic driving experience. Different scenarios like city driving, night driving, rain and yard training can be done. Training is K53 based.
It was very important to Afsim that everybody across South Africa can get the opportunity to learn to drive this way and therefore it was decided on mobile platforms. This way, disadvantaged learners can also get access to this wonderful opportunity.
Afsim will therefore use one platform for research and development, marketing and to train disadvantaged learners across the Free State for free. Afsim will negotiate with government to help in training disadvantaged people across South Africa. Afsim believes that a person who can drive has a better chance of getting a job or be self efficient. Every mobile platform is equipped with two to four simulators which means that up to four learners can be trained simultaneously.
Afsim believes that in this way he can contributes to road safety and job creation in South Africa and other parts of Africa. Afsim is based in Bloemfontein, but will operate countrywide by means of franchises.
Chris Smith
Marketing Manager: Afsim
082 491 7468