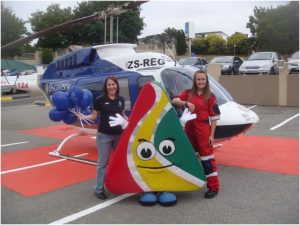 So often we share accident reports and images of horrific accident scenes and neglect to share the nice, softer side of road safety.
Road Safety need not be only be about the horrible and traumatic side of reflecting on lost lives –but also should include the exciting and better angle of creating awareness amongst especially our younger generation. It could also include sharing these exciting smiles and sharing information on what is done to ensure the safety for all road users!!
The past weekend allowed me the opportunity to experience the passion of paramedics who are extremely motivated to save the lives of South Africans, and also to share the smiles of young children in the Paediatrics Ward of the Sandton Medi-Clinic.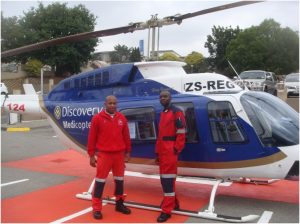 The Arrive Alive road safety partner ER24 invited me to attend the World Trauma Day event held at the Sandton Medi –Clinic and asked whether it would be possible for me to bring our road safety Mascot named Freddy, along to the event.
On Thursday I left Bloemfontein with Freddy occupying most of the inside of my VW Polo!!
I took Freddy to the ER24 Head Office at Paulshof and attended several meetings with road safety partners in Gauteng. On Thursday and Friday evening I stayed with a good friend in Randburg, and on Saturday and Sunday experienced the comfort and hospitality of the Balalaika Hotel in Sandton.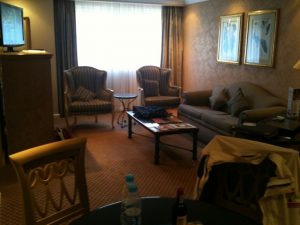 The Balalaika Hotel is an upmarket hotel situated in central Sandton and well known amongst international airlines and foreign visitors!
The Balalaika rendered assistance as accommodation partner with the Arrive Alive website and enabled us to make available information to foreign travellers leading up to the World Cup on the Arrive Alive road safety website.
I have become good friends with the managers at the adjacent restaurant The Bull Run – and have spent a number of hours in conversation over a nice glass of red wine – knowing that I don't have to drive anywhere after having enjoyed a few glasses of good wine! This restaurant is well known for excellent food – and I must admit that the sight of elegant air hostesses from international airlines is always a plus!
On Sunday morning I enjoyed the visit to the Sandton Medi-Clinic! There is nothing quite like a visit to the paediatric ward to remind oneself of how blessed we are to have good health. Even though it was some effort to transport Freddy to Johannesburg – all was made worthwhile by experiencing the smiles from kids in the paediatric ward!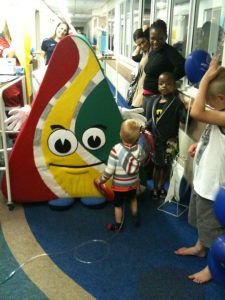 The young patients were touching and hugging the Road Safety mascot and outside the hospital they were shown the medicopter/ emergency helicopter. Having to deal with many horrific crash reports and complaints from road users it was a breath of fresh air to experience the warmth of these very human emotions!
Later on Sunday I took some time to relax by the pool at the Balalaika and t reflect on our road safety efforts. Having lost my mother in a car accident at the age of 2 years – road safety has always been close to my heart. We will continue with our road safety awareness efforts – and will strive to improve on what has been achieved thus far!
I would like to extend a word of appreciation to everyone who has assisted in these efforts thus far!!