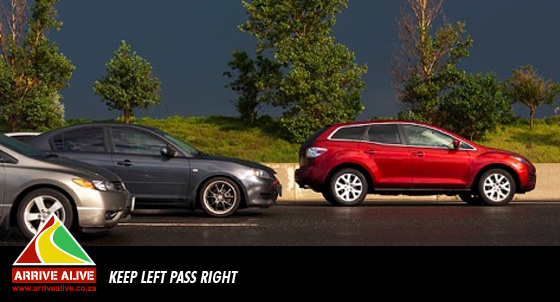 Earlier today the Arrive Alive website received a call and an email from a concerned citizen. This road user has traveled extensively abroad and on his return has increasinly become more concerned with the levels of lawlessness observed on our roads  – and has also requested a greater focus on the principle of Keep Left Pass Right!
We would like to share this message:
"As discussed earlier today I have recently returned from 2 years in Germany where I drove everyday on the well-known autobahns.

On my return I am concerned to see that driving habits in SA have without any doubt got worse.

I have a number of concerns – every day I see examples of gross lawlessness

But maybe there is one specific issue that we could focus on:

Specifically people who drive slowly in the fast lane or drive slowly in the middle lane – both of which create a problem for faster moving vehicles which cannot overtake.

Is it really legal to overtake in the slow lane? if so why? Surely we should look to re-introduce the old "keep left pass right" rule?

It would make driving on our roads a lot safer and make a lot more sense than the existing chaotic arrangement.

Could arrive Alive not start a communication campaign to "Keep left, pass right!!!"