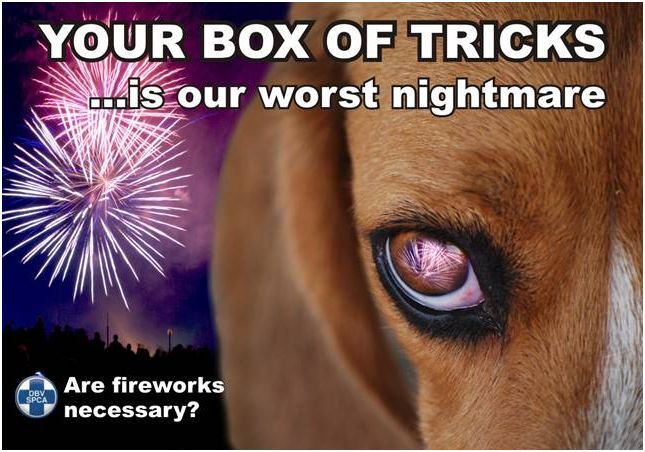 Know the Law?
No person may light or ignite fireworks in any place where animals are present
(R 1 000 fine).

This includes domestic homes.
No person may allow any minor (child) under his or her control to "use, light or ignite" fireworks (R 1 500 fine).

No exceptions to this rule.
No person may use fireworks on any agricultural holding or at any school or senior citizens' residence
without special Council authorisation ( R 1 000 to R 1 500 fine).

This authorisation must be sought well in advance of intended day.
No person can use fireworks within 500 metres of any petrol depot or petrol station

without special Council authorisation (R 1 500 fine).
No person or organisation can "present a fireworks display" unless formally authorised to do so by the Council
(at least 14 days' notice before the display is required by Council to consider such an application).
Authorisation is also required from the Civil Aviation Authority and the Chief Inspector of Explosives.

(Multiple fines of R 1 500 are applicable).
At such a display (should permission be granted) a pyrotechnist and SA Police Services
explosives expert must be present at all times (R 1 500 fines).
No person may deal in fireworks (sell or make available) unless they hold a fireworks licence in terms of the
Explosives Act as well as the written authority of the Chief Fire Officer
(R 1 500 fine).
The reign of terror which afflicts our large pet population when people indiscriminately
(and often criminally) ignite noisy fireworks at all times of the day
and night gets worse every year.
Firm enforcement of the by-laws will assist in reducing the noise and panic levels
and allow people (and their pets) to plan for "noisy" periods thus producing a quieter,
safer environment for all concerned.
Please keep in mind that scared animals might run across our roads and present an additional hazard to road users and contribute to fatal road accidents.
Consider with caution whether your fireworks are worth the risks to both animals and road safety!