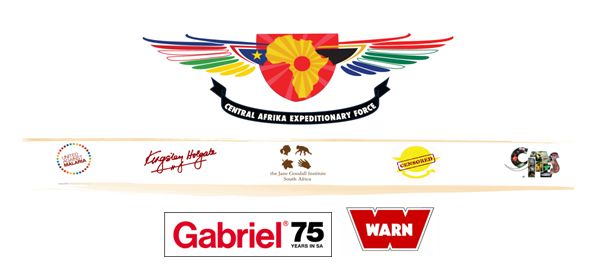 Gabriel shock absorbers and Warn winches in partnership with United Against Malaria (UAM), explorer Kingsley Holgate, the Jane Goodall Institute (JGI) SA and a number of sponsors have launched an expedition to Central African Republic (CAR) to deliver 2000 malaria nets and rescue four chimps in distress.
There are 1-million malaria deaths each year in Africa. One child dies every 30 seconds in Africa of malaria. 91% of malaria deaths occur in Africa, 85% of these are children under five, and 40% of African health expenditure is on malaria alone.
To raise funding for malaria nets, bracelets are made at a senior-citizens centre in Khayelitsha and then sold by various organisations. The funds are then used to buy and distribute malaria nets for underprivileged mothers and children across the continent.
United Against Malaria Supporter's bands
Gabriel product and brand manager Sean Staley said, "This is a project with which we are proud to be involved. It supports our corporate social investment (CSI) plan, assists children in Africa, saves lives, reduces medical expenditure and addresses our group objectives."
Much-needed malaria nets and childrens' clothing will be delivered to pregnant mothers and children in schools, clinics and orphanages in CAR. The four chimps to be rescued will be brought back to the JGI SA Chimpanzee Eden Sanctuary in Nelspruit in what could be a daring mission.
An advance team will depart from Johannesburg for CAR on Saturday, 20 November 2010 led by Phillip Cronje, JGI sanctuary manager and Dr Stephen van der Spuy, JHB Zoo CEO and veterinarian. A film crew will accompany them.
Ten days later a second team will leave to rescue and collate the four chimpanzees to a central point in Bangui and do the necessary blood tests that will be sent off to the Netherlands. It will include staff from Gabriel and Control Instruments who will assist in handing out the malaria nets.
The second backup team lead by Chris Thorpe of United Against Malaria (UAM) and David Oosthuizen of the Jane Goodall Institute SA will depart and meet up with the advance team, the four chimpanzees and Holgate in Bangui.
They will deliver fresh supplies to the UAM team and peacekeeping troops, drop off a new crew and pick up the advance team and rescued chimpanzees.
Over the past few years The Jane Goodall Institute has rescued many chimpanzees in numerous African countries. They are given a new lease on life and spend their days in the JGI SA Chimpanzee Eden Sanctuary.
"Never before have we been able to bring such a unique group of organisations and people together, each with the skills that will ensure the success of this historic expedition. The Central African Republic Expeditionary Force will pave a new path in the way expeditions of this nature will be carried out in the future," said Chris Thorpe, United Against Malaria.
"The mission will certainly represent various logistics challenges. After the chimps have been rescued, blood needs to be drawn and flown to Holland to test for various diseases such as simian AIDS. The rescue team has to maintain the chimps in challenging conditions until the chimps are cleared to travel," he said.
It will be a race against time to complete all blood tests and paperwork from South Africa before the second team arrives.
The rescue mission involves a massive amount of permits and security clearance documentation; the coordination of transport, logistics and personnel; as well as the cooperation between NGOs, corporate sponsors, various African governments and one of the world's foremost adventurers to rescue and move the chimps in less than a week's time.
Will the Central African Republic Expeditionary Force pull it off and get the chimps safely to South Africa? "If we manage to pull this off, it will be quite an achievement," said Margi Brocklehurst, executive director from the Jane Goodall Institute South Africa.
About Kingsley Holgate:
Fellow of the Royal Geographic Society, author, humanitarian and modern-day explorer is one of South Africa's best-known adventurers. With his family and team, they have completed a number of successful humanitarian expeditions to all but five of the 47 countries that make up the continent of Africa. Now the challenge is to make history by completing the entire continent – ending with the All Afrika Expedition in C.A.R. to support the Chimp Rescue Mission.
About The Jane Goodall Institute SA:
Founded by renowned primatologist Jane Goodall, the Jane Goodall Institute is a global organisation that empowers people to make a difference for all living things. In South Africa, the JGI SA Chimpanzee Sanctuary is home to chimpanzees that have been misplaced from their natural habitats in Central Africa.
This tranquil sanctuary is committed to the rescue, rehabilitation and care of Chimpanzees in need of refuge and brings the world of chimpanzees closer to humanity through education and tourism. In the 50 years since Dr. Jane Goodall first set foot on the shores of Lake Tanganyika in what is now Tanzania's Gombe National Park, the chimpanzee behavioural research she pioneered there has produced a wealth of scientific discovery, and her vision has expanded into a global mission to empower people to make a difference for all living things.
About The All Afrika Expedition:
As part of the energy that surrounded the 2010 FIFA World Cup and the UAM Expedition that preceded it, the geographic objective of The ALL AFRIKA EXPEDITION is to now complete the remaining five countries of Equatorial Guinea, Burkina Faso, Niger, Chad and the Central African Republic, all before the end of 2010. In keeping with the ongoing theme of using adventures to improve lives, The ALL AFRIKA EXPEDITION will continue to promote malaria prevention awareness through the United Against Malaria partnership. The ALL AFRIKA EXPEDITION will carry a Scroll of Peace and Goodwill and will continue to promote goodwill, tourism and conservation links between South Africa and the countries visited.
About Malaria:
Malaria is a disease caused by parasites and is transmitted to humans through the bite of an infected mosquito. If left untreated, the infection in its most severe forms can lead to a coma and death. Malaria is preventable and treatable, but continues to kill a child every 45 seconds and overall nearly one million people each year. Malaria contributes to the cycle of poverty and limits economic development.
About United Against Malaria:
United Against Malaria is a partnership of football teams and heroes, celebrities, health and advocacy organizations, governments, corporations, and individuals who have united ahead of the 2010 World Cup in South Africa to win the fight against malaria. Our goal is to galvanize partners throughout the world to reach the United Nations target of universal access to mosquito nets and malaria medicine in Africa by the end of 2010, a crucial first step to reaching the international target of reducing deaths to near zero by 2015. www.UnitedAgainstMalaria.org
About The Sponsors:

Founding partners include Comic Relief, Johns Hopkins Bloomberg School of Public Health, Malaria No More, ONE, PATH, PSI (Population Services International), the Roll Back Malaria Partnership, the United Nations Foundation, and the United Nations Special Envoy for Malaria.
Major international corporate partners also include Land Rover, Gabriel, Captain Morgan, ExxonMobil, Nando's, Novartis, Pfizer, Sumitomo and Vestergaard Frandsen, MTN, Standard Bank, DSG, Exclusive Books, Nikon, Africa Fashion International, Africa Geographic Magazine, Anglo American, Super Sport, MNet, Endemol, Big Brother Africa, Sasol, &Beyond, Wildcam, Syngenta and Premier Medical Corporation Limited.
Join the Gabriel Facebook Page for Updates:
http://www.facebook.com/#!/pages/Gabriel-Shocks-ZA/165994910101525
Also view:
Shock Absorbers and Road Safety