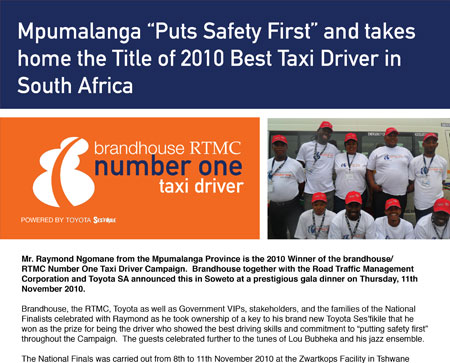 Mr. Raymond Ngomane from the Mpumalanga Province is the 2010 Winner of the brandhouse/ RTMC Number One Taxi Driver Campaign. Brandhouse together with the Road Traffic Management Corporation and Toyota SA announced this in Soweto at a prestigious gala dinner on Thursday, 11th November 2010.
Brandhouse, the RTMC, Toyota as well as Government VIPs, stakeholders, and the families of the National Finalists celebrated with Raymond as he took ownership of a key to his brand new Toyota Ses'fikile that he won as the prize for being the driver who showed the best driving skills and commitment to "putting safety first" throughout the Campaign. The guests celebrated further to the tunes of Lou Bubheka and his jazz ensemble.
The National Finals was carried out from 8th to 11th November 2010 at the Zwartkops Facility in Tshwane where drivers contended fiercely for the top position. The drivers were put through their paces by the Toyota Advanced Driving Academy. "All drivers this year showed great commitment and driving skill. Unfortunately there can be only one winner and Raymond rose above the rest.
We are proud of these individuals that emerged as National Finalists", says Mr. Von Krause, CEO TAD. Ms. Phumza Rengqe, CSR Manager brandhouse Beverages says, "Mr. Ngomane's skills as a driver, his attitude towards his commuters and most importantly his regard for road safety put him at the top of the leader board and together with our partners we are proud to announce him as the National Winner. In fact, all National Finalists showed their enthusiasm and commitment to this project and were truly inspiring.
They will go forward as ambassadors for road safety and the Campaign". Raymond says that cannot believe that he has won and that he looks forward to being his own boss and owning a taxi.
Runner up in the Campaign was Mr. Tat Hendricks from the Eastern Cape who won R25 000 in cash and in third place was Mr. Elias Mnguni from Gauteng who took away prize money to the value of R20 000. The 2010 brandhouse RTMC Number One Taxi Driver Campaign has come to a close and can be hailed as the most successful Campaign year yet. The Campaign promises to grow in size and stature in 2011 and is awaited in great anticipation.
Also view: