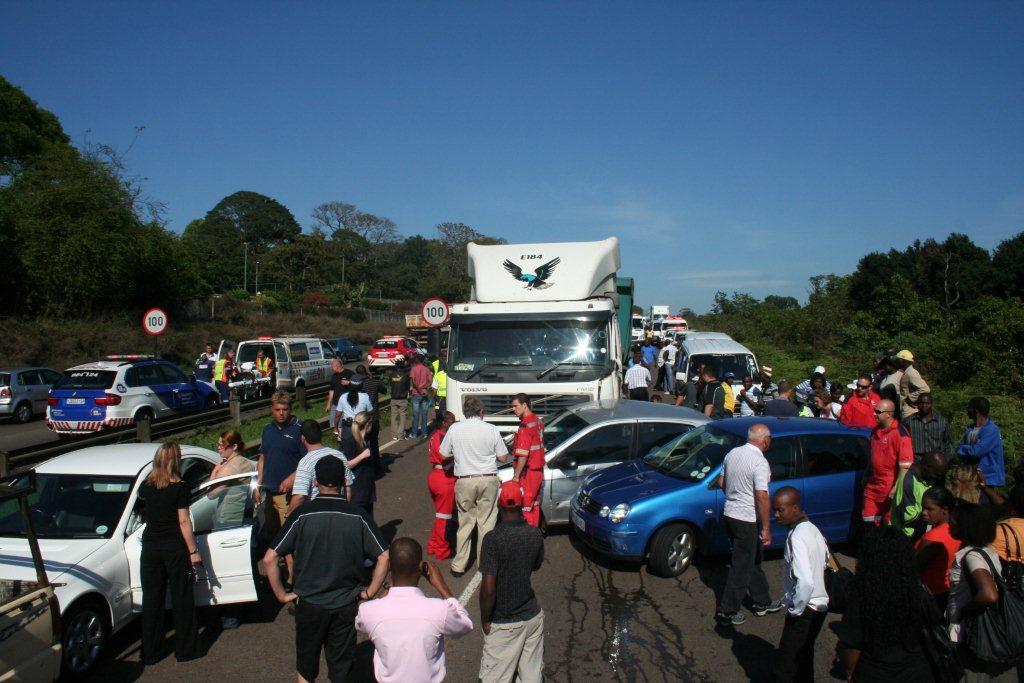 Almost a week after the horrific accident where approximately 30 cars slammed into one another in Durban, another multiple car pile up has occurred.
The M13 heading into Durban, bust before the Everton road off ramp had to be closed for a short while this morning as a truck, seemingly not being able to stop, crashed through seven cars. Witnesses to the incident said that the truck came barreling down the road and could not stop, even though it seemed as if the driver was desperately trying to avoid other road users, he ended up crashing into seven cars.
For these early morning road users, events could have gone a lot worse, but fortunately only two women had to be transported to hospital from the scene. They were both complaining for next and back tenderness, so they were taken to hospital for further observation.
Paramedics who attended the scene were quite surprised to see that most of the other motorists who had been affected by the accident, including those who had to stop because the accident was blocking the road, were actually not very phased by having to stop. They got out of their cars and chatted to other motorists and the victims that had been affected.
Paramedics also said that most of the motorists were mothers and their children that were on their way to school, and they were very fortunate to not have been involved in the accident.
The traffic was severely affected in both directions as onlookers slowed down to see what the commotion was about.
Vanessa Jackson
ER24