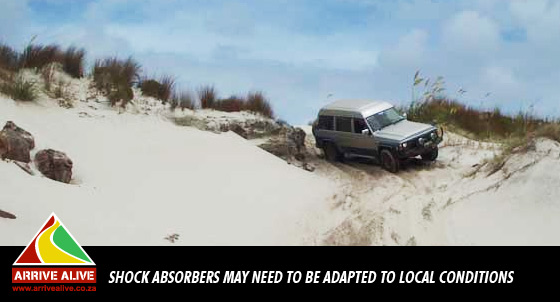 Most vehicles on South African roads were originally designed overseas for the global market. Considering that 80% of that market has relatively well maintained roads and limited off-road conditions, many of these vehicles' shock absorbers are not always ideally designed for South African road conditions.
Original equipment parts supplied with a new overseas-designed vehicle may not provide this. In South Africa vehicles generally need a stiffer suspension because of the general deteriorating condition of our road infrastructure. Therefore, Gabriel may re-design the damping characteristics on shock absorbers of some overseas-designed vehicles, to improve their suitability to SA conditions.
"Not only do we provide the original equipment equivalent, but we also offer products that cater for these conditions," says Sean Staley, Gabriel product and brand manager at Control Instruments Automotive.
"Our local conditions present many challenges for these overseas-designed vehicles, and when Gabriel designs and manufacturers its shock absorbers locally, it takes into account these factors," he says.
"Dirt roads with corrugations can subject the vehicle's suspension to high stress conditions. This may cause instability and unsafe road handling if the shocks overheat, which leads to fade."
Different damping characteristics in the design of the shocks may be necessary which Gabriel does at its Cape Town factory. "This makes overseas-designed vehicles more adaptable to our local conditions either by eliminating or reducing vehicle instability," says Staley.
Off road conditions such as farming and agricultural, where there is limited road infrastructure, may cause overseas-designed suspensions to operate at their design limit. This again may need dampening adjustments and more durable bushes and shock components to ensure longer life of the shock absorber.
Gabriel manufactures shock absorbers for normal road use, firmer and sporting road use, normal on and off road use, extreme off-road use, as well as shocks for large trucks and buses.
Also View:
Shock Absorbers and Safety on the Road