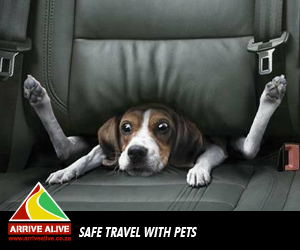 We are so anxious to get to our holiday destination that we often neglect taking the time to consider the safety of our pets that travel with us. The Arrive Alive website received a request for some information about safety when traveling with pets – and we were able to share a link from the Arrive Alive website.
On the Arrive Alive website we have made available a rather comprehensive section of content under the title "Road Safety and Traveling with Pets" .
We would like to quote from this page:
Before traveling with your pet
* We need to ask whether it is a good idea to take your companion animal on vacation with us – is it best for the animal as well or only best for us?
* Early acclimation to car travel is the key. If your pet dislikes traveling by car, it might be worth taking it out for a few trips in the car before you set off to try to prepare it for the journey ahead.
* If you will be going over international borders, make sure you have your pet's proof of rabies vaccination and their current health certificate to hand.
* Some companion animals shouldn't travel at all. If your companion animal is very young or very old, sick, recovering from surgery, or pregnant, then leave her at home.
* On the day you leave, maintain your pet's usual feeding routine. Anything out of the ordinary will probably make them feel more uneasy.
* Keep favourite toys and food handy as animals tend to respond better when they are surrounded by familiar things.
Restraining the Pet
It is of the utmost importance that the driver of the vehicle is not distracted by fellow passengers – irrespective of whether these are humans or animals!
* Net pet barriers can keep animals in the safe area of your vehicle and keep them from distracting the driver.
* Truly pampered pets can ride in style in booster seats, right next to their owners.
* These pet travel seats are supported from below, so your pet has a great view along with a comfortable ride. There are straps to secure your pet to the basket of the booster seat.
* There are various sizes of padded pet vehicle safety harnesses that secure your pet to the vehicle's seat belt system.
* The safety harness keeps your pet from distracting the driver and keeps your pet secure in the event of a sudden stop.
* If you are involved in a car accident, the restraining device will keep your companion animal from crashing into the front window or car seat.
This is a season of sharing and giving – let us also give our animals the necessary protection!!
Also view: