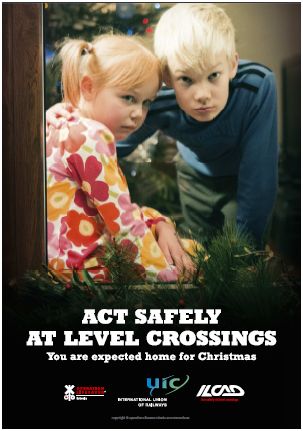 In South Africa we have found numerous accidents at level crossings during 2010.There is a need for greater compliance by all our drivers of the Rules of the Road when driving near rail/ level crossings and more education and enforcement are to address these dangers.
Due to the great success encountered by this worldwide education campaign held on 22 June 2010 with the common message "Act safely at level crossings", aiming to raise road users' and pedestrians' awareness of the risks of level crossings and change their behaviour, it has been unanimously decided by the International Level Crossing Awareness Day [ILCAD] partners to continue this collaborative effort in 2011 on a larger scale.
Operation Lifesaver Estonia (OLE) www.ole.ee – a non-profit and non-governmental organisation making education campaigns to reduce collisions, deaths and injuries at road/rail interfaces in Estonia – offers the
possibility to all ILCAD partners to use the poster they have just created for their annual Christmas campaign and allow other ILCAD partners to use it and adapt it to their own company.
The posters, shown at bus stations, on street billboards and in passenger trains, are usually accompanied by radio spots and a special video shown on TV.
Also view: