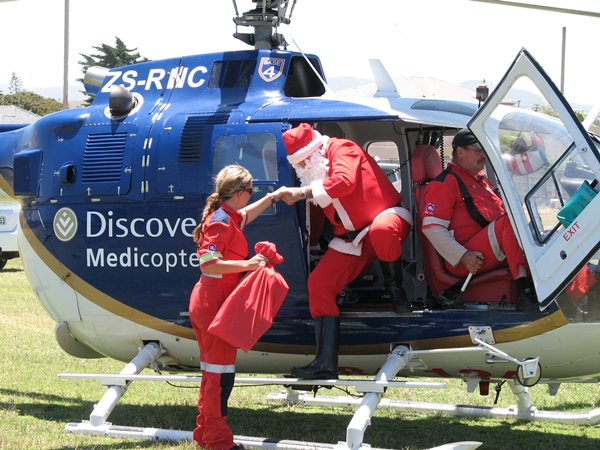 Last Saturday the 11 of December Blouberg Rotary club hosted a festive Christmas celebration for 250 underprivileged kids. The event was made possible by various associations donating food, toys and other items to be made up into gift boxes for the children.
The children were brought to the Italian club in Rugby by bus where they enjoyed a fun day despite the heat and harsh winds. At 12:15 it was time for the man himself to make an appearance and in what better form than in the ER24 Discovery Medicopter. Once the children noticed the helicopter making a low flying circle over the Italian club, excitement could be seen on all of their faces. Volunteers had their hands full as hundreds of children rushed to the landing zone to welcome Father Christmas.
Once safely on the ground Father Christmas exited the Medicopter, red bag in hand and waved on the eager crowd of young children. He then gave out the hundreds of presents donated by various organizations. ER24 would like to thank the Blouberg Rotary club for making it possible to contribute to the joy and memories made that day.
Andre Visser
ER24