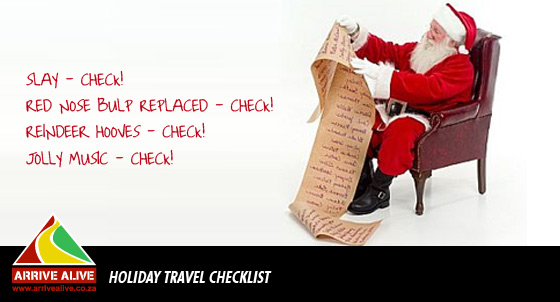 With everyone getting ready to set off for holidays, it is important to be prepared for the unexpected, especially considering there is an increase in vehicles travelling on the roads during this time. Safety and preparedness is the name of the game when travelling over the 'silly' season, especially if you are travelling long-distances by car, says Tempest Car Hire marketing director Janita Edwards, who offers some tips to those who are travelling by road over the festive season.
Before you leave home:
• Check that your house alarm system is working prior to your departure (including the back-up battery, so that it functions during power outages)
• Close and lock all windows and doors
• Unplug appliances to save energy and in case lightening strikes
• Request that a neighbour, family member or friend clears your post box every few days, while you are away
• Do not leave keys on the inside of doors
• Never leave tools in your garden that would help intruders break into your home.
Planning Ahead
• Plan your trip route and if you do not have a GPS navigation tool use a road atlas to plan your trip in advance.
• Stick to major routes or toll roads and if you are going to travel on the 'back roads' identify the towns along the route and what the distance is between them, as you will need to plan where to re-fuel.
• Plan rest stops along the way and if you are travelling with kids it is a great way to let them know when and where you will be stopping.
• Try and avoid peak travel periods if possible.
• Always ensure that a friend or family member, who is not travelling with you, is aware of the route that you are planning to travel. Ideally you should also update them on your progress of the journey and let them know when you have reached your destination safely.
• Toll Roads – Before you set off on your journey check your route to see if any of the national roads you will be travelling on are toll roads and check the toll fees before departing and make sure that you have either a credit card or cash to pay. Toll fares for a light passenger vehicle vary from R2.50 to R61.00.
• Most important, before you set off on your journey remember to pack your driver's licence and identity document or passport and make sure you scan copies of your ID, driver's licence and save them in a different place to the originals or on a USB device. Also make a note of your credit card company phone numbers in case you need to cancel them in the event of loss or theft.
Once you hit the road
• Look out for pedestrians suddenly crossing the road and be alert when approaching traffic lights for other motorists who skip robots.
• Take regular breaks to counter fatigue, which could lead to an accident.
• Be careful of animals on the open road, especially on rural back roads and be aware of road signals and signs.
• If it is raining, turn your headlights and windscreen wipers on and remember that oil and petrol on the road could cause you to skid or slide out of control, so reduce your speed and try not to brake suddenly.
• When driving in fog, reduce your speed, keep to your side of the road and turn your headlights on low, or use fog lamps if they are fitted to your car. Use the road markings or the verge of the road as a guide, and look out for obstacles in the road.
• Don't talk on your cell phone when driving – it is illegal and you could cause an accident.
• Keep your driver's license and identity documents with you at all times
• Keep to the speed limit
• Be alert when approaching robots and intersections
• Avoid fatigue and eyestrain by stopping frequently for breaks and to stretch
• Be cautious when driving alone, and avoid stopping in remote areas.
• If it is raining, turn your headlights and windscreen wipers on. Try to reduce speed and try not to brake suddenly. Often there is oil and petrol on the road, which can cause you to skid out of control.
• Have numbers for roadside assistance and other emergencies close at hand or saved on your cell phone, so that you are well-prepared for any eventuality.
Travelling with Little Angels
Traveling with your children can be a fantastic way to bond with them, show them the world, and make memories to last a lifetime. However, because the little angels tend to get bored because of having to sit for a long time, they can also be a nightmare on a long journey. Here are a few tips to help you keep them occupied on your journey.
• Kiddies DVD players – trust me, well worth the investment. They can watch their favourite films over and over (just remember to fully charge the player before leaving!)
• Music works on kids – Before leaving home, make sure you have portable CD players with fresh batteries and a stockpile of their favorite CDs for the trip.
• Kiddies books on CD – These stories last for hours and will keep your child entertained for some time.
• Games to stimulate their imagination – Play games like 'I Spy with My Eye' or maybe license plate games, like trying to make a sentence with the letters on passing cars license plates.
• Snacks – ?Some snacks are good, however, try to stay away from sugary snacks or your kid will be bouncing off the seat when you're still miles away from your destination.
• Make Frequent Stops" – This makes the trip more bearable for children. Getting out to stretch their legs and look at the scenery is sometimes all they need to get them through to the next stop and stop them saying "Are we there yet?"
• If your child tends to suffer from motion sickness and complains of dizziness or nausea, this can be helped by getting out of the car for a bit of fresh air. Alternatively, there are over the counter drugs available for treating motion sickness, which need to be taken before embarking on your journey.
Useful emergency numbers:
In an emergency, call the SAPS Emergency number, this number will allow you access to flying squad, fire department and ambulances: CALL: 10111
If you have any information about a suspected criminal or suspicious activity meriting police investigation and response, call Crime Stop 08600 10111
For poison information services in all areas call: 0800 33 3444.
In conclusion
Edwards concludes by sharing Susan Heller's famous saying: "When preparing to travel, lay out all your clothes and all your money. Then take half the clothes and twice the money