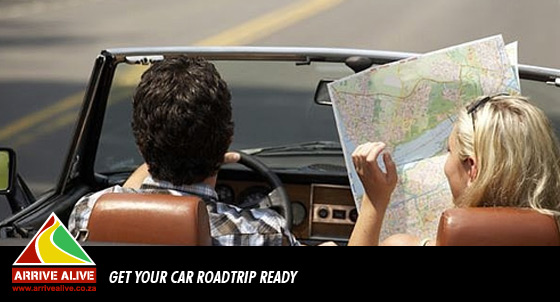 Padkos. Check. In-car entertainment. Check. Everything but the kitchen sink. Check. You may be ready for your upcoming holiday, but is your car? Failing to do simple checks on your vehicle before you hit the road this summer could put you and your family at risk.
Start by familiarising yourself with your vehicle insurance policy and make sure it's been updated if anything has changed recently. Also be sure to check:
• Does your insurer offer emergency roadside assistance?
• Do you have your insurer's emergency assistance telephone numbers available in the car (i.e. on a sticker, in the glove compartment or in your cellphone)?
• Does your insurer cover you if you are travelling to neighbouring countries and do you need to notify them if doing so?
It's critical that you only use the service providers allocated by your insurer in emergency situations; these companies have been approved based on their reputation and service. Using unapproved providers could result in your vehicle being damaged, or you being charged exorbitant release fees to get your vehicle out Be sure to call your insurer first in the case of such emergencies and put the emergency sticker in a place where it is clearly visible on the vehicle.
While most vehicle insurance policies cover minor repairs, they don't cover replacing engine parts. If your car is older than 10 years or no longer under motorplan or a service plan, look into a motor warranty product for the ultimate driving peace of mind. These are relatively inexpensive and prepare you for the financial implications of unexpected, costly mechanical or electrical breakdowns. Once you have a warranty policy in place, it's as simple as making sure that you service your car regularly and keep it in good running order
Next, check your vehicle. A simple assessment of your car will ensure compliance and make sure your car is fir for the road and safe for you and your family. Because yes, an accident caused by an unroadworthy vehicle could invalidate your claim.
Follow our simple 'top 10' holiday checklist to ensure the safety of your vehicle. Check:
• Tyres – a simple tread depth test will tell you if your tyres are wonderful or worn (As a general rule of thumb: make sure the tread depth exceeds 1mm across the entire surface of the tyre for them to be legal)
• Brakes – check pads and discs
• Windscreen – fix reparable chips
• The condition of your windscreen wipers
• Lights; make sure all lights – especially your brake lights – are in good working order
• Battery
• The condition of your spare tyre – tread and tyre pressure
• Shock absorbers
• That you have a warning/breakdown triangle in your boot
• Your water and oil, before leaving for holiday
Your vehicle is now roadtrip ready!
While it may be the silly season, be smart when on the roads: never allow an unlicensed person to drive your insured vehicle and never drive when drunk. And remember; make sure your insurance premium is paid for the month.
Happy holidays!
[Info by Max Huggins, MiWay Head of Claims]
Also View: