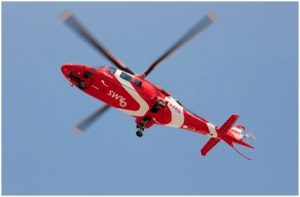 The Metro Red Cross Air Mercy Services (AMS) helicopter will be operating from the Ultra City at Bloemfontein on Friday (10 December 2010) as part of the road safety initiative of South Africa's leading glass retailer, PG Glass, in collaboration with Arrive Alive, the Free State Department of Health and OFM.
Friday being the start of the summer school holidays, an abnormally high traffic flow is expected, and the focus will be on regular stops to counter fatigue.
A recent paper by academics of the University of Cape Town noted that 4% of fatal accidents on South African roads are caused by fatigue, compared to 7% which is caused by alcohol or suspected alcohol consumption by drivers.
PG Group marketing director Bernice Bailey, says the aim is to encourage safe driving in an effort to reduce the number of accidents, fatalities and serious injuries on South African roads during the festive season.
As part of a campaign to help counter this situation, OFM will conduct an outside broadcast at the Shell Ultra City on the N1 outside Bloemfontein from 11:00 to 16:00 on Friday, encouraging motorists to take safety breaks.
The station's highly popular breakfast team, Tim Thabethe, André Kunz and Leanne Nel, will be attending from 11:00 to 13:00, and then Kenzy Vinco, described as "a hip and happening presenter" will take over until 16:00.
The partnership between the Free State Emergency Medical Services and AMS ensures that all critically injured persons can get the best care possible to improve their chance of survival. The numbers to dial are 10177 or 0861 267 267, but only qualified medical personnel at the patient's side can request the helicopter.
AMS medics will discuss the basic principles of emergency treatment that can save a life in case of an accident. The AMS is a non-profit aero-medical organisation that provides emergency rescue, rural health outreach and air ambulance service to rural and urban areas.
PG Glass staff will be on hand to do free 3-check windscreen tests and emergency chip repairs, and have got a lot of prizes to give away, including LLumar vouchers for smash-and-grab film.
ContiPartner will test tyres on vehicles without charge, and advise motorists on the safety of their tyres.
AA road reports will be available.
Also view:
Road Safety and Your Windscreen
Don't underestimate role of windscreen in road safety