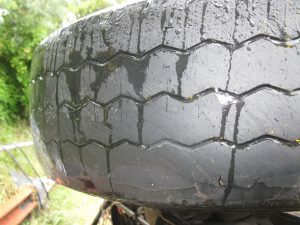 • Check tyre pressures every 2 weeks when tyres are cool and before every long journey.
• Check tread depth on all tyres and replace well before they reach regulatory minimum depth of 1.00 mm to reduce the risk of aquaplaning on wet roads.
• Check tyres regularly for punctures, penetrations, cuts and bulges.
• Valve-caps must be fitted to all tyre valves.
• Tyres, sizes speed / load ratings must conform to the specifications in the Vehicle Owner's Manual.
• Tyre brand, size and tread pattern must be the same on each axle.
• Torque wheel studs /nuts to correct setting when mounting new tyres – check for loose or missing wheel nuts.
• Check tyres and rims for any accidental damage after impacting with potholes/curb stones or other obstacles in the road.
• Tyres, brakes, shock absorbers and rims should always be checked when servicing the vehicle.
• Vehicle wheel alignment should be tested at regular intervals to obtain even tread wear and maximum service life.
[Suggestions provided by Tiger Wheel and Tyre and Continental]
Also view:
Road Safety & Aspects of Tyre Safety