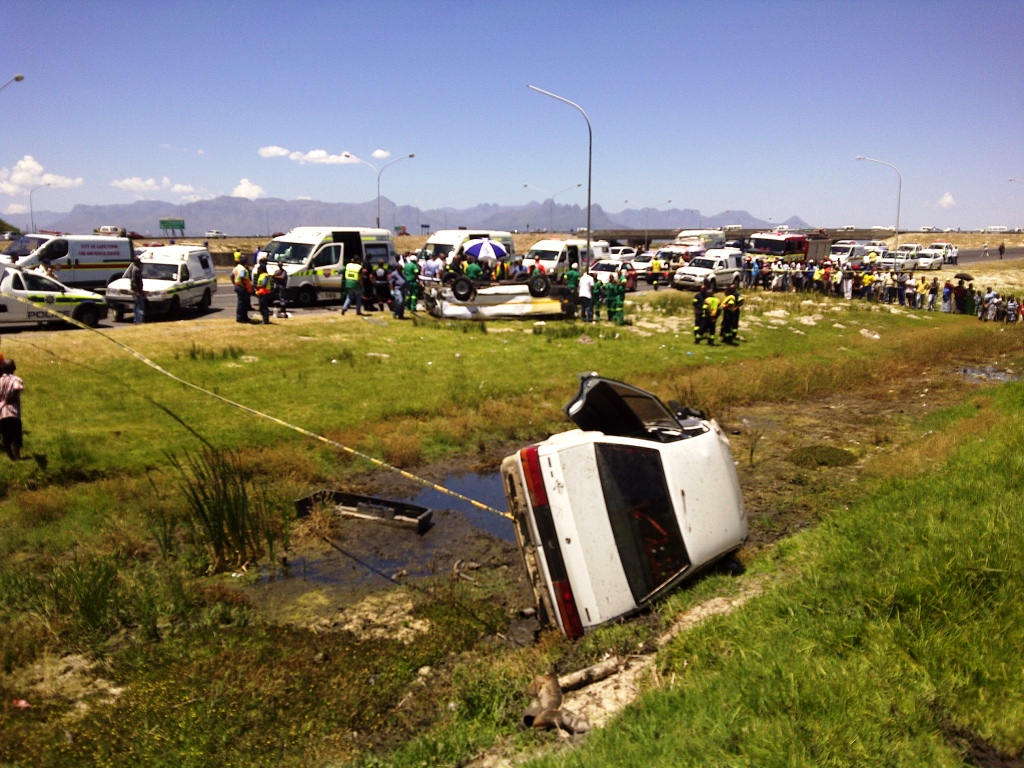 A serious collision occurred this afternoon on the N2 highway on the Mew Way on-ramp. It's still unclear as to how the collision occurred, but there were two vehicles involved. It seemed that a minibus taxi made contact with a light four door sedan. Both vehicles then allegedly lost control before overturning multiple times.
The sedan came to a standstill on its side in the creek next to the highway. The minibus taxi also overturned but came to a standstill on the on ramp and on its roof. All of the supporting pillars of the minibus taxi collapsed and the vehicle resembled that of a crushed car.
When ER24 paramedics arrived at the scene Metro rescue and ambulance services including local fire and rescue services were already at the scene. There was a total of 16 patients at the scene. Five of the patients were in critical condition and needed to be taken to hospital rapidly. Amongst the five critical patients was a four year girl who had sustained severe injuries. She was later airlifted to the Red Cross Children's Hospital.
One of the passengers a female in her forties had sustained severe injuries and was declared dead at the scene. An unknown amount of occupants in the sedan motor vehicle could not be found at the scene. Local law enforcement authorities will be investigating the incident.
Andre Visser
ER24