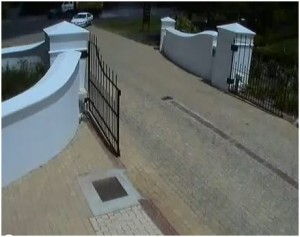 Video footage of the accident on the R45 coming into Franschhoek which instantly killed 2 of the 3 occupants in the blue sedan, brothers and the rear passenger in a critical condition fighting for his life in hospital.
The driver in the SAPS vehicle is lucky to be alive today, but is in hospital with a spinal injury. The 2 in the truck were unhurt.
At first inspection  – It appears that the truck driver might have been speeding and tail gating the white nissan.
Closer inspection reveals that the white car might have overtaken the truck and then cut in front of the truck to enter the complex gate…..
A double homicide case has been opened.
Accident Investigators are at present investigating this accident.
We would like to urge road users to drive with caution and obey the Rules of the Road at all times!! Our condolences to the family and friends of the accident victims!
View the Arrive Alive road safety website for more info on road safety!!
Also view: Following Distances and Road Safety