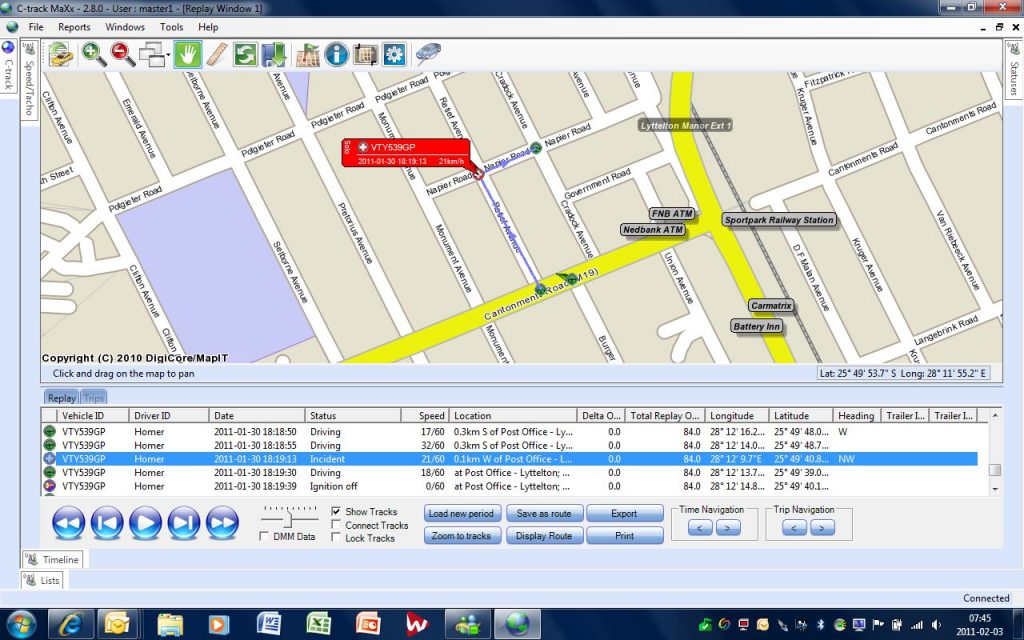 Vehicle tracking technology is an essential tool for fleet owners that want to understand the causes of accidents that their vehicle are involved in so that they can protect themselves against fraudulent claims as well as take steps to prevent similar accidents in the future.
That's according to Hein Jordt, managing director at DigiCore Fleet Management.
He says that many fleet owners think of vehicle tracking technology primarily as a means to recover stolen vehicles and cargo quickly in the event of theft.
However, this technology also has an important role to play in accident management.  Today's vehicle tracking solutions are based on a sophisticated and powerful blend of telematics, GSM and GPS technology that enables the control room to not only locate the vehicle on the road, but also to harvest a range of information about how the driver is handling the vehicle.
Fleet owners can gather a range of rich historical data from their vehicle tracking systems that they can use to build a detailed picture of what happened in the event of a collision. They can easily see the heading, geographic location and speed of the vehicle at the time of an accident and use that data to verify or refute statements from the driver and other people involved in crash.
They can infer a great deal of data about the driver's behaviour on the road and his treatment of the vehicle, enabling them to verify whether the driver was speeding or braking harshly at the time of an accident. This information safeguards the fleet owner and driver from wrongful claims in the event that the accident was not caused by the fleet vehicle's driver, says Jordt.
It also helps companies to fill in their insurance claims confident that they are passing on the correct information to the insurer. Many insurers offer policyholders with tracking systems premium discounts and excess waivers not only because the vehicles are more likely to be recovered if they are stolen, but also because they can verify information policyholders submit in their claims. This, in turn, allows the insurer to reduce losses on damage claims.
Jordt says that accident report information can also give fleet owners insight into the routes and driver behaviours that are the most common causes of accidents. They can use this information to reduce accident rates into the future.
The technology enables the vehicle to automatically notify the control centre in the event of a collision. It can also be used to dispatch emergency assistance to an accident site when a collision takes place. This prevents the nightmare scenario the vehicle is only discovered hours after an incident.
About DigiCore and C-track
Founded in 1985, DigiCore Holdings Ltd is listed on the JSE. The company specializes in the research, development, manufacturing, sales and support of technology advanced GPS fleet management, vehicle tracking and personal tracking solutions.
The design and development of these products is done in Centurion and the products are manufactured at DigiCore's ISO certified facility in Durban.
Using a wide range of personal tracking, vehicle location, fleet management, satellite navigation, workflow, mobile job planning and security tools, C-track is able to provide private individual,  commercial vehicle, van and car fleet operators with cost effective and scalable solutions that offer a unique combination of flexibility, reliability and functionality.
C-track contact:
Hein Jordt
Managing Director DigiCore Fleet Management
Tel: +27  12 662 2705
Also view: C -track South Africa