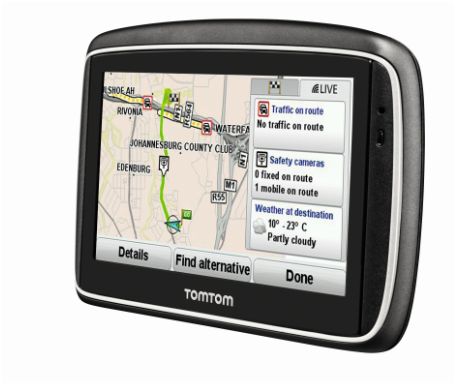 There has been a lot of discussion on the future of the GPS Navigation Manufacturers – especially with reference to the competition from smart phone manufacturers. It has become clear that the manufacturers of GPS navigation technology will need to be pro-active and inventive with the services and solutions  they provide.
The GPS navigation device is no more merely just a nice tool to provide maps and the directions from point A to B – It has now become a lot more interactive – and I believe TomTom is well positioned to meet the needs of our times!
I would like to refer to and quote from an interesting post that appeared on Seeking Alpha. This provides greater insight on how vehicle telematics are used to deliver real time benefits to consumers.
GPS devices and the need for relevance
"One of the greatest challenges for companies introducing telematics systems and solutions is to bring daily relevance to their offerings.
Traffic data is something that is relevant five days a week to a substantial portion of the working public. Companies that get traffic data right have a huge competitive advantage not only in providing traffic data, but also for providing a wide range of data feeds and services. In fact, the very infrastructure required for delivering traffic data – storage and processing facilities and servers and, in some cases, broadcasting capability – is a suitable platform for providing other telematics services.
For this reason, traffic data providers such as TomTom and Navteq (NVT) also serve as content and service aggregators. The opportunity to provide additional telematics services is the brass ring for which traffic data providers are reaching. It is for this reason these companies are seeking to bundle traffic data offerings with traffic-influenced routing, developing mobile apps for smartphones and connected navigation systems, and other initiatives focused on moving up the value chain – ultimately leading to sponsored content, reviews and location-aware advertising and promotion."
Providers of quality data will survive in competitive market
Who is to survive in this highly competitive industry? We have recently added a section of content on the Arrive Alive website pertaining to vehicle and insurance telematics. We believe that the benefits reach far beyond mere navigation – but also impacts on road safety, environmental protection and even the calculation of car insurance premiums!
Who will survive?
To quote from Seeking Alpha – "The winner(s) to emerge from this marketing scrum will be the company or companies with the highest quality traffic data. Traffic data quality, in turn, is determined by a handful of critical factors including data sources, integration, and delivery. (The quality and nature of the user interface is important as well, but is the responsibility of the device or service designer/manufacturer.)
Telematics (software) will become more and more important for navigation devices companies. The result is a clear transition away from pure hardware sales to software based-solutions and revenues. Software will take half of the total navigation market by 2016, according to ABI Research."
TomTom well positioned
Why do we believe TomTom is well positioned in this market?
It designs and sells route navigation systems, is global market leader in the sales of portable navigation devices and is the world's leading provider of location and navigation solutions. The company employs over 3,000 employees worldwide. Over 45 million people daily use its solutions, be it in the form of dedicated portable navigation devices, in-dash car systems or tracking and tracing solutions for fleet management. In addition, hundreds of millions of people use TomTom's digital maps on the internet or mobile phone.
TomTom has revealed in the Traffic Manifesto that it will be playing an active role in reducing traffic congestion – something that affects each and every road user! The focus on reducing unnecessary travels will also benefit the reduction in CO2 emissions and allow vehicle owners to benefit from Pay As You Drive Insurance products which rewards reduced travel!
Also view:
Vehicle and Insurance Telematics
Pay As You Drive on the Car Insurance Blog
What is Insurance Telematics and how will it impact on Car Insurance?