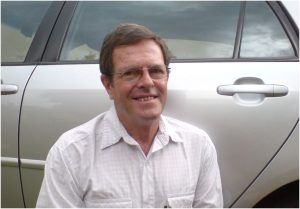 Rob Handfield – Jones, MD of driving skills company, driving.co.za, today announced that well-known driving skills specialist, Dave Johnston, has joined the company as its Customer Service Manager.
"Dave Johnston has been called 'Mr Advanced Driving South Africa' for good reason," said Handfield – Jones. "He pioneered defensive training for motorcycles in South Africa when he launched Honda Ridewell in 1978, and he has subsequently been involved in almost every major driver training initiative the country has seen," he added. "Countless South Africans owe their lives to the skills he has taught over the past 34 years."
Johnston's primary focus in his new position will be on strengthening driving.co.za's sales and customer service capacities, but he will also be spending time on product development, instructor training and media relations. Johnston said that the driver training landscape had evolved in recent years and that companies looking for the safety benefit of driver training were also increasingly paying attention to the potential for savings on running costs.
"Even a fuel saving of five to ten percent can add a significant amount of money to a company's bottom line," he said. "Big companies can save literally millions through upskilling their drivers," he added. "Driving.co.za's product range is a market leader in this regard and I'm really looking forward to being part of their team," he concluded.
DAVE JOHNSTON – CAREER HIGHLIGHTS
1978 – Launches Honda Ridewell motorcycle defensive riding academy
1981 – Spends year qualifying as USA Motorcycle Safety Foundation instructor
1982 – Joins the South African Institute of Advanced Motorists as Chief Instructor for Motorcycles
1986 – Launches BMW Advanced Driving (currently BMW Driver Training)
1989 – Launches AA Kyalami Driver Training (later AA Total Driving Academy) including the most advanced skidpan in Africa
1994 – Launches AA The Driving School
1996 – Launches MasterDrive / SimuDrive
1999 – AVIS purchases MasterDrive
2003 – Launches AA Driver Training
2006 – Oversees amalgamation of AADT with Zwartkops Driver Training
2011 – Joins driving.co.za full-time as Customer Service Manager