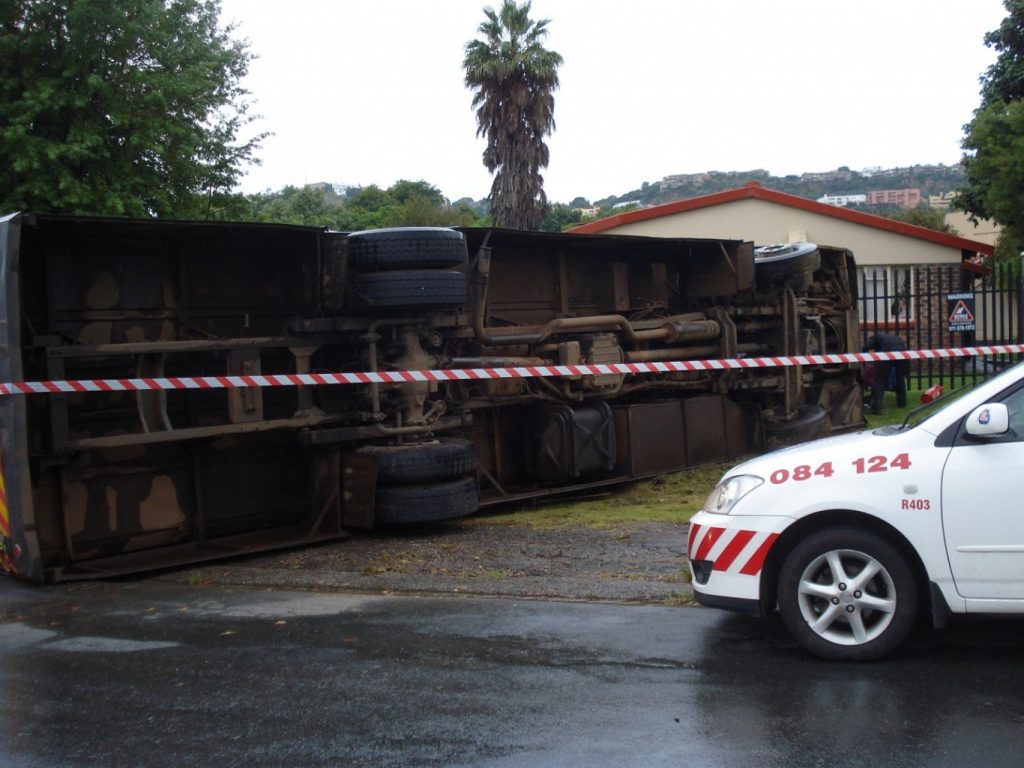 67 people were left with various injuries after a bus overturned on the corners of 14th avenue and Suzanne Crescent in Northcliff this morning.
It is believed that the bus, which was travelling in the direction of Randburg, may have skidded off the road possibly due to the wet weather causing the road to become extremely slippery. As the driver of the bus increasingly lost control, the bus rolled onto its left hand side. All of the occupants were then thrown to the left hand side of the bus. Some of the occupants were found lying almost under the bus and paramedics suspected that they may have been ejected from the side windows of the bus as it overturned. There had been 65 people in the bus at the time of the accident.
It is believed that as the bus started to swerve onto the side of the road, two other light motor vehicles, a Nissan and Audi, tried to avoid the collision and they too skidded onto the side of the road. The man and woman drivers were treated for possible back and neck injuries.
The Leaders Personnel Group business heard the accident and quickly sent out their first aid team to start treatment of the injured. Emergency personnel at the scene were extremely grateful for the extra hands to treat the vast number of injured people. 4 people, including two pregnant women were treated for serious injuries. They were quickly removed from the scene and taken to a medical facility in the area.
As the rain continued to pour, ER24, JHB EMS and other emergency services continued their tireless efforts to treat the injured and get them to hospital in the quickest way possible. Due to the nature of the injuries that the people had sustained, 15 ambulances had to be called in from the area to transport patients to hospital. Injuries ranged from minor cuts and bruises to more serious injuries such as broken bones and internal injuries.
The SAP attended the scene and were very effective in rerouting the traffic around the accident into the surrounding suburbs.
Teamwork and determination played a very important role in the treatment and transportation of every patient at the scene.
ER24 would like to remind motorists of the danger of driving in wet weather conditions. Please drive carefully!
Vanessa Jackson, ER24
Also view: