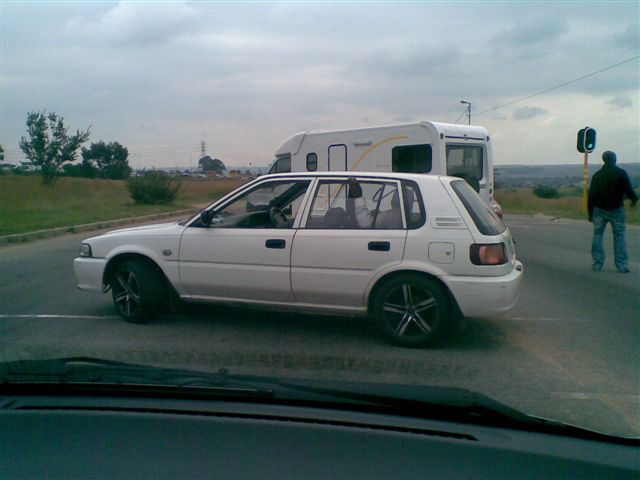 We would like to share an email that the Arrive Alive website has received from a disgruntled road user:
"I was on my way to Woodmead shopping centre on Saturday 26 March around 11:43. At the intersection of North Way and Old Pretoria Road we experienced some lawlessness and thoroughly offensive behavior.
The Toyota in the picture ran the stop light and proceeded to block the intersection, the light was green in the favour of cars going toward Buccleuch. The driver and front seat passenger left the vehicle and waved on the cars in their procession who were waiting to turn into Old Pretoria from North Way (the passenger can be seen in one of the pictures).
Cars on both lanes of Old Pretoria were obstructed while these 2 self appointed 'traffic officers' stopped the smooth flow of traffic and took the law into their own hands. Cars travelling toward Kelvin had to slam on their brakes to avoid smashing into the cars turning into Old Pretoria and to avoid the idiot stopping traffic. When I asked the passenger what was going on he replied that I should "shut up and wait". I later realized that the cars were all part of a funeral procession as they were driving with headlights on.
This however does not excuse this reckless behavior and if everyone had to take the law into their own hands and drive as they pleased without obeying traffic signals and stop streets then there would be chaos. The sorry excuse of a mourner could not even plead dignity and wishing to pay his respects to the dead as a factor as he was busy chugging from a green bottle of beer (?) which he put into the cup holder before exiting the vehicle."
I have reported the incident on the website, just could not include the pictures.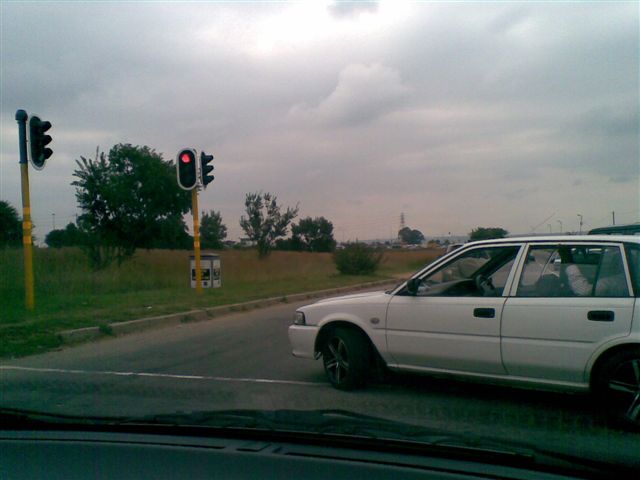 Also view: