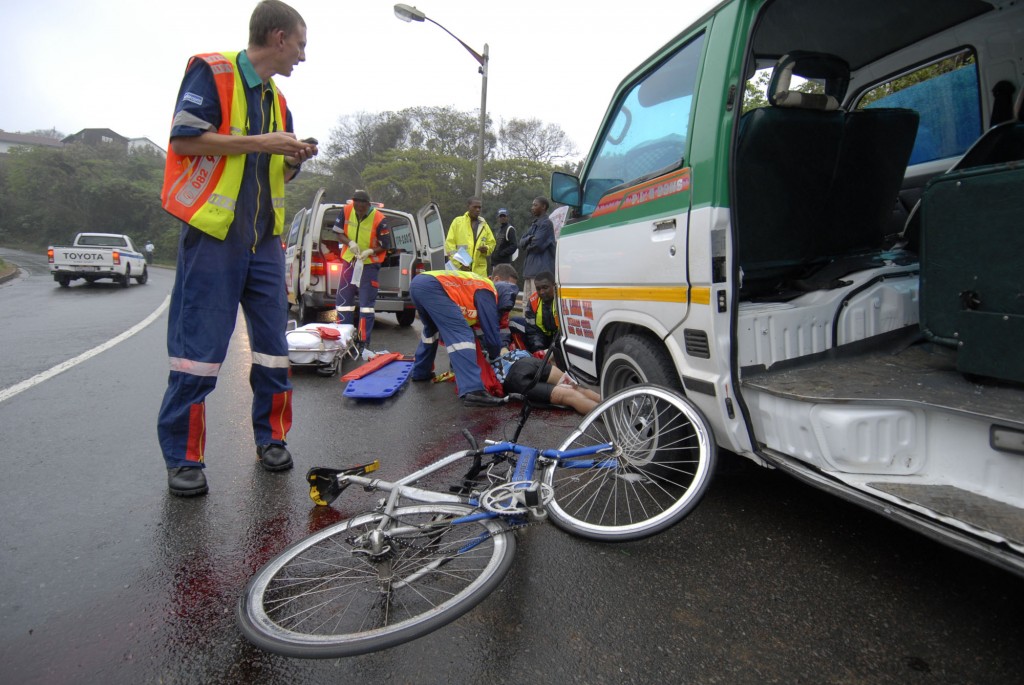 We would like to share an email received from a visitor to the Arrive Alive website:
"Dear sir
Your web page on cycling and pedestrian safety refers:
It is a list of things a cyclist/pedestrian should do to ensure his/her safety. It boils down to: "If you want to live stay off the road and get an exercice bike or a treadmill". In other parts of the world municipalities compete with each other to make the environment safe and attractive to cyclists, with tens of thousands of kilometres of dedicated cyling lanes built and maintained by the authorities. Nearly 40% of accidents in South Africa are listed as caused by "jaywalking" and it is assumed that the pedestrian is at fault. Go and have a look. It is a rare traffic light that has never been run over. Pedestrians never know when it is safe to cross because there are no working walking lights. Almost 10% of accidents are hit and run, so if you do not manage to cross the road before the light goes green for traffic you are dead.
Motorists do not respect either pedestrians or cyclists. Yielding is a bizarre, foreign concept to most of the motorists. Have a look at the sidewalks. They resemble obstacle courses! Property owners in Polokwane go so far as to put chains around the sidewalks, when they do not build walls accross the path, to discourage pedestrianism. The top of the Drakensberg escarpment is a smoother and safer walk any day than any sidewalk in South Africa. The paths are uneven, lack continuity, they are littered, rutted and invite ankle injury at every step. So you can choose: look where you put your feet and get mugged, or look out for muggers and break a leg.
The solution is to copy overseas law enforcement to enforce respect for pedestrians and cyclists. European Union motorists commit an offence when they pass a cyclist with less than 1.5m berth and/or a speed exceeding a walking pace (6km/h). I am sure many people who spend 3 to 6 hours daily to commute 35 km on the N1 between Pretoria and Jhb would do so gladly on a bicycle or even a pedal assist electric bicycle such as used by 40 million plus Chinese citizens, if only there was a safe cycling path. However, there is no money to be made from bicycles, whereas cars can be tolled, insured, financed, parked, towed, panel beated, fuel levied, carbon taxed etc…
Just have a look at the people who advertise on your website. How about a law enforcement drive where road hogs will have their juggernauts cubed on the spot and on youtube? That would make them gulp. I am a motorist, and though I would prefer to walk I often have to drive merely because it is less dangerous. It is not because I am a greater coward, just there is no glory in becoming a road statistic."
For more info on cycling safetyalso view: