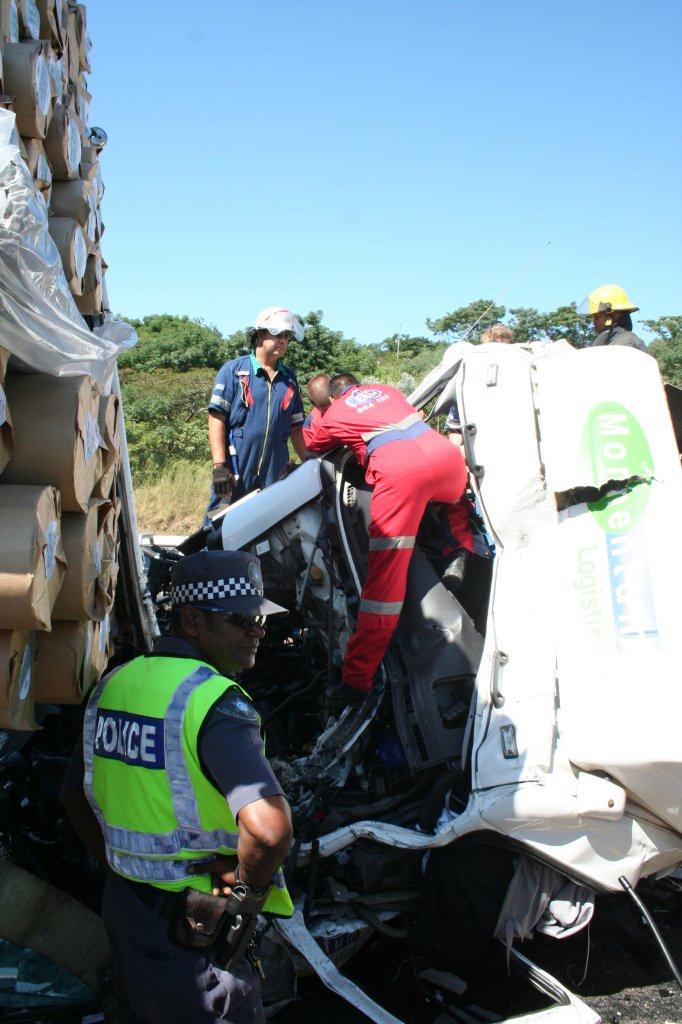 An articulated truck has crashed into the back of another articulated truck on the N3 East bound in the left hand lane about 100m from the Spaghetti Junction, entrapping the driver inside the cabin this morning.
ER24 paramedics who were the first to arrive on the scene, found the cabin of the truck that had caused the accident completely being ripped off the body.
The driver who was entrapped inside the cabin was assessed and found that he was in a serious condition. while paramedics stabilised the patient, the Jaws of Life and other hydraulic equipment had to be used to help extricate the man from the wreckage. Advanced life support intervention had to be performed and specialised boards were used to help stabilise the man before he was taken out of the vehicle. He was transported by ER24 to Life Entabeni Hospital in a serious but stable condition for further medical care.
It is believed that the first truck had broken down in the left hand lane and had been there since just after 8am this morning. The second truck was coming down the N3 east bound towards Spaghetti Junction and is alleged that the driver did not notice the truck was stationary at the time, by the time he realised what had happen it was too late and collided into the back of the truck.
All necessary authorities were on the scene and would investigate the accident further. Two lanes of the four lanes were closed to traffic due to this collision.
Derrick Banks
ER24