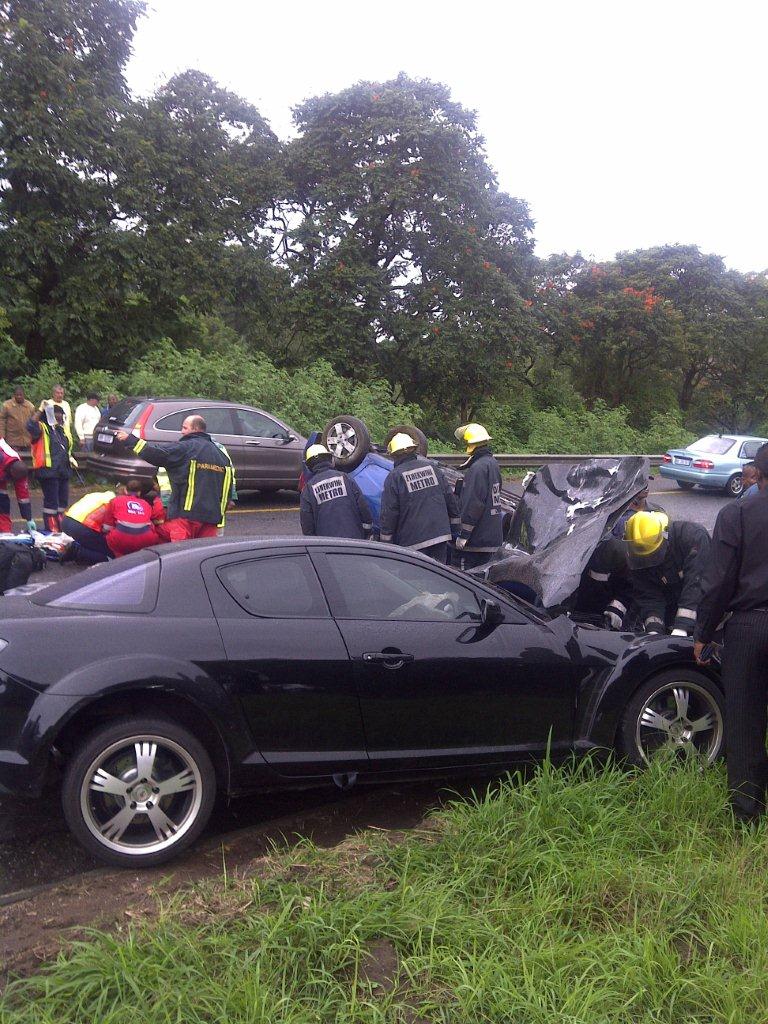 A collision involving two light motor vehicles on the M7 Durban bound near Winston Churchill off ramp has left one person dead, another person in a critical condition and two others are in a serious condition this afternoon.
ER24 and the Provincial ambulance service arrived on the scene; they found one car on its roof in the right hand lane while the second car was in the centre medium and partially in the right lane. Three of the occupants of the car that was on its roof were found outside the vehicle while the fourth person was still inside the car. The patient that was inside the car was responsive and had suffered fatal injuries. Unfortunately there was nothing more paramedics could do for him and he was declared deceased on the scene.
female to be in her twenties and pregnant was in a critical condition. She had suffered a broken arm and a head injury. Advanced Life Support intervention had to be performed to try and save the young girls life. She was intubated and placed on a ventilator while emergency personnel stabilised her further. The remaining patients from the same vehicle were treated for possible neck and back injuries. All three were transported to R K Khans Hospital for further medical care.
The driver and passenger of the other vehicle escaped uninjured in the accident.
It is believed that the vehicle that landed on its roof was travelling on the M7 Pinetown bound when the driver lost control in the wet weather and went through the centre medium and had the head on with the other vehicle. The impact caused the car to overturn. Metro police and SAPS will investigate the accident further.
Derrick Banks, ER24